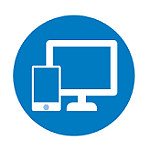 [Editor's note: this guest post was written by Emily Clark, following the Digital Festival held in Halesowen library]
On 8th October 2016, Dudley Libraries held a digital-themed day aimed at families and branded as a 'digital festival'. Their intention was to raise the profile of libraries as a place to learn digital skills.
Planning and promotion
I attended the SCL digital leadership programme in October-December 2015, and came up with the initial idea for the festival, to accelerate interest in the programme of digital activities that were already on offer in libraries and contribute to the STEM agenda which is gaining more prominence in school and college curriculums.
We anticipated that the event may gain a lot of interest and planned ambitiously for a high attendance.
An Eventbrite page was set up and used to publicize and manage bookings for the event, and schools and colleges were made aware of the event, by sending out information on school bulletins and newsletters via the network of literacy coordinators.
What happened
A committee of staff from all levels, with an interest in digital, were involved in planning and delivering activities which included:
Minecraft taster sessions and Minecraft masks craft
Creating light up robot cards using LEDs, cell batteries and electric paint
Code UK showing children how to create animations and games using Scratch
Raspberry pi introductory sessions
Stop motion animation using plasticine models and iPads
Beauty Blogging Workshop
Digital music creation
K-Nex
XBox gaming tournaments
Social media workshop with Adam Koszary from University of Oxford's Bodleian Library
Film Screening of web series 'Video Game High School'
Birmingham Makerspace FizzPop demonstrating 3D printers and running a digital torch craft
Dudley College bought a DIY rocket launcher and electronics
Competitions including a QR Codes trail, and prizes such as Think Tank Science Museum tickets
The festival took place at Halesowen library from 10am – 2pm, with activities taking place over five floors and in multiple locations. There was a real buzz about the day, with children dressed in Minecraft t-shirts, running around to explore everything that was going on.
Impact
200 bookings were taken via the Eventbrite page, with 600 people visiting the library on the day.
Lots of positive feedback was collected from families attending the event. The event was described as 'very fun – something new', 'really relevant to my son's interest', with 'loads of exciting activities to get involved in'.
Perceptions were altered about what libraries have to offer and people who attended the event said they would now 'look more to find out what's on' in libraries.
The taster format for activities allowed us to see which digital activities are most popular – this will be helpful in planning future events.
New members were attracted to the library and several people joined on the day.
Exciting partnerships were made with contributors, which can be capitalised on when planning future events.
The event was attended by a local councillor, increasing local political awareness of the contribution that libraries can make.
Reflection
The festival was particularly exciting for me, as it was a chance to see my idea realised. Although it involved a lot of planning, the costs involved were low as volunteers were utilised, all partners contributed free of charge and we made our own publicity. The only costs were on staff and materials for the activities.
Many people who came asked for more of the same, and there are plans for another Code Club and some spin off 'mini maker' activities for the school holidays. A big event like this is great for grabbing attention and testing the waters for the community appetite for more of this type of activity. There is so much more mileage in many of the partnerships that have been made through planning the Digital Festival, so we are hoping that this is just the beginning.
To find more about Dudley Libraries and upcoming events, follow us on twitter at @dudleylibraries
------------------------------------------------------
Please note, this is a guest blog. Views expressed here do not necessarily represent the views of DCMS or the Libraries Taskforce