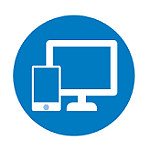 [Editor's note: this guest post was written by Siobhán McKenna, a Senior Policy Officer on the Diversity and Social Policy Team at the Greater London Authority (City Hall).]
Mi Wifi: Can you work with City Hall to help some of the most disadvantaged Londoners get online and reap the benefits of all things digital?
"Social integration is an important priority that cuts across all policy areas. If we are to achieve it, we need to tackle inequality. We need to build strong communities, and enable all Londoners to actively participate in the life of the city and in the decisions that affect them."
Sadiq Khan, A City for All Londoners (2016)
The Mi Wifi pilot project is a 'proof of concept' or pilot project to test how efficient, effective and value for money lending wifi-enabled devices (tablets) through a library (or community centre), coupled with basic digital skills training, is at reducing digital exclusion in one or more London boroughs with high digital exclusion rates. It is aimed at those who currently do not have access to the internet and who have little or no basic digital skills.
Digital inclusion is more than just getting people online, it is about transforming lives, particularly for those groups most excluded. In 2016, 6% of London households did not have access to the internet, 7.2% of Londoners had 'never used the internet' and 16% did not have basic digital skills. There is no single reason for people being digitally excluded and reasons can include: a lack of interest in internet, a belief they lack the skills to go online and the cost of equipment. Mobile WiFi is increasingly considered the best channel through which to reduce digital exclusion as a recent evaluation of a Vodafone Mobile Devices project by the Good Things Foundation found.
City Hall's commitment to Digital Inclusion is clear. In recognition of this emerging digital divide, the GLA's Digital Inclusion Strategy was launched in January 2015. It outlines why digital exclusion is a growing concern for particular groups in London and how the Greater London Authority (GLA) can work with partners to address the barriers Londoners face to getting online.
In February 2016, the GLA became a signatory to the government's Digital Inclusion Charter. The charter aims to reduce the number of people who are offline by 20% (nationally) every two years, so that by 2020 everyone who wants to be online is online. The GLA is committed to working towards this goal in London ensuring that all Londoners benefit from digital technology. Sadiq confirmed his commitment to reducing digital exclusion in both manifesto commitments and by highlighting digital inclusion's relevance in A City for All Londoners.
We at City Hall are keen to support libraries in London. We know they are at the heart of many communities and we think London libraries are well placed to deliver this project.
Call for Submissions
This is a unique opportunity for the GLA to practicably support the reduction of digital exclusion for some of London's most vulnerable groups and develop a pilot for London's libraries which will eliminate some of the primary barriers to getting online for participants. This project will target groups with high digital exclusion rates across one or more London boroughs including: Older Londoners (+55); Londoners from disadvantaged backgrounds (in social housing, in receipt of benefits support or entitled to FSM, JSA, etc.) and Londoners with a disability (especially those who are housebound). But it is not just individuals who are off-line and not benefiting from digital access; 23% of small businesses and 58% of charities/community groups lack basic digital skills which will help them thrive. (Lloyds Bank digital index)
The GLA wishes to appoint a delivery partner(s) to deliver this programme in one or more borough with high rates of digital exclusion through local libraries or community centres. If you are a library service in London and wish to apply, please email Siobhan (siobhan.mckenna@london.gov.uk) to receive the Call for Submissions and Application Form when they are released later this week.
-----------------------------------------------------------------------
Please note, this is a guest blog. Views expressed here do not necessarily represent the views of DCMS or the Libraries Taskforce.