[Editor's note: this guest post was supplied by Islington libraries' Tony Brown at the start of Islington Reads week 2018, and the launch of their 2018:Year of Reading programme which will run to the end of December.]
In 2016, Councillor Raphael Andrews became the first Islington Reads Champion. The purpose of Islington Reads is to promote awareness of the importance of reading for educational achievement, the value of reading for pleasure on health and well being, and to increase the uptake of reading amongst residents.
Since 2016, he has been involved in many reading projects and activities such as the Summer Reading Challenge, Islington Teen Read Vote and London Super Comics con. He is a keen advocate of reading for pleasure.
He arrived in the UK from the Caribbean at the age of 7 during the 1960s and has always lived in Islington. He went to school and worked in the borough, and became a councillor in 2010.
"Something I feel a bit guilty about is being the Reading Champion for the council because I am having so much fun."
Q. What role has reading played in your life?
Reading has played a tremendous role throughout my life. My earliest memories are of when I started to read. It's important that all children develop the love of reading for pleasure and carry that love of reading into their adult life. I'm very pleased that we are starting the Sharing stories with your children project, because reading to your child is one of the best ways to give your child the best possible start in life.
Q. Why do you think reading is important?
Reading is very important as it enables you to build better communication skills, especially if you want to get a good job. It also gives you access to information which all of us need to fulfil our lives. Reading is important too for health and wellbeing – providing an enjoyable way to wind down and relax. As a child, I was always reading to learn new things. My favourites were The Cat in the Hat books and the Ladybird books. Now, there are so many great books for children by authors such as Jacqueline Wilson and JK Rowling. It's also important to read widely. In my school library, I enjoyed reading the Look-in series which was a mixture of history, general knowledge and stories. It was a bit like a comic with illustrations and I got really excited when it came out every week. I would always be in the library to devour it.
Q. How would you encourage someone who wasn't keen on reading?
I would encourage everyone to join their local library and browse. You will be surprised at the range of books they have. And if you're not sure, pick up a Quick Read or, even better, have a chat with the library staff who are available to help you decide. You don't have to pick up a book. There are lots of different materials to read: graphic novels, ebooks and e.audiobooks on mobile phones and tablets. I'm particularly excited about the new ComicsPlus service that provides free access to thousands of digital graphic novels and comics. There's never a better time to get into reading.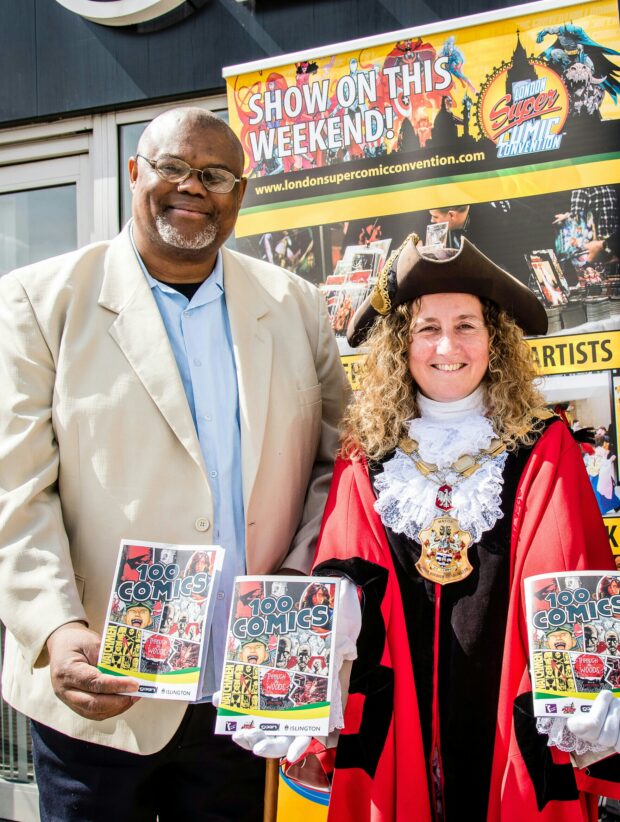 Q. What was the first book you remember reading and loving as a child?
That's a really hard question. My aunty used to read a Ladybird book about building a snowman – what intrigued me was what was snow as we didn't have any in the Caribbean. I then discovered Janet and John books, which were lent to me by a neighbour who also had a set of encyclopaedias. So I read up on all the things I enjoyed doing, like kite flying. I then progressed onto Enid Blyton and the Famous Five.
Q. When and where do you like to read?
I am an avid reader in libraries and I used to read a lot at work because I worked at night. I read at home and can have four books on the go at once! I like to read science fiction and detective stories. I also have to read a lot of committee reports which eats into the time I have.
Q. Why did you want to be the Islington Reads champion?
I thought it was a wonderful idea and I think a lot more children should be reading, especially as there are so many great books around. Libraries have always been important, especially in an area like Islington with its council housing.
Q. Which is your favourite reading event you have attended in your role as Reading Champion?
There have been so many wonderful experiences as Reading Champion. It's like being asked which is your favourite ice-cream! Islington Teen Read vote at Waterstones, the London Super Comic Con at the Business Design centre where the Mayor thought she would look odd all dressed up in her mayoral robes but in fact everyone was dressed up as a comic novel character and wanted their photo taken with her. It's always good to meet authors and Illustrators, and I loved seeing the children get their certificates for taking part in the Summer Reading Challenge.
Q. What is your favourite book you'd like to recommend?
To choose just one is really difficult. I'd like to recommend Ralph Ellison's Invisible Man. It's about an African American man who, because of his colour, is rendered invisible. It's a work of fiction and is one of the most powerful books about the social issues facing African-Americans during the 1950s. I came over to Britain in the 1960s and there were some shops that I couldn't go in to. It's an experience no-one should encounter and books have the power to share those experiences.
Q. Which event for Islington Reads week this year are you most looking forward to?
I love Islington Reads week as there are so many wonderful events celebrating reading. I'm particularly looking forward to Gunnersaurus storytelling with Arsenal in the Community at the North Library, but will also be attending the Drag Queen Story Time at Central Library.
Find out what's on for Islington Reads week, which runs between 26 February - 4 March.
__________________________
Please note, this is a guest blog. Views expressed here do not necessarily represent the views of DCMS or the Libraries Taskforce