[Editor's note: Guest post written by Subnum Hariff-Khan, Library and Information Manager for Oldham Libraries]
On 22 March, with much excitement, a ribbon cutting ceremony, and with honours completed by our Youth Mayor, we finally launched our new sensory room at Oldham Central Library. Situated within the children's library the space is free to both Oldham groups and members of the public. The room is equipped with digital sensory technology including musical touch wall, LED interactive bubble tube, fibre optic slideglow, LED interactive infinity tunnel and an LED sound activated step light.
Our aims
Our aims for the multi-sensory room facilities and programmed activities are:
to support the health and well-being and the learning and cultural needs of children and adults with autism, sensory impairments, special educational needs, and dementia as well supporting people who are suffering from stress and anxiety
to offer a range of programmed activities in the space including sessions for babies, young children, teenagers and adults
to provide services that support the borough's vision and that of Greater Manchester's to become autism and dementia friendly
We have been inundated with information requests and room bookings since we launched and this is what users have said about the room:
"Fantastic facility for the people of Oldham. Very relaxing experience for both the children and I. Thank you to all involved."
"This will be invaluable to me as a carer over the summer when the school is closed. I have found it so difficult to find activities for the young people that I care for and having this room to use will be amazing."
"We've had a lovely session this afternoon with library staff. We will make the room a regular outing for us as a family."
We've had an unprecedented response on social media. The first Facebook post about the room was shared over 100 times reaching over 20,000 people.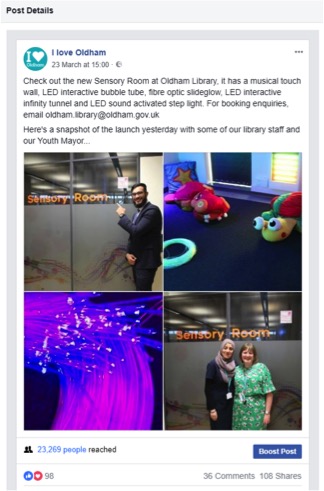 'Celebration of the Senses'; Oldham Libraries Sensory Fair took place on Saturday 5 May, including information stalls from a variety of organisations to special storytelling sessions in the Sensory Room. Storyteller Susanna Oldfield, who has over 15 years of experience, brought stories to life in three fully-immersive, interactive sessions designed for children with additional needs.
Future plans
Currently, we are offering the space free of charge whilst we review our charging policy. We are using this initial three month period as a trial so that we can consult with users about their experience and ensure that we are meeting their needs.
We are investing in further training for staff at all levels to develop the sensory room offer. We will continue to work closely with local providers in Oldham that work with children and adults with special educational needs to promote the space and gather feedback to ensure those that would benefit the most continue to access the service.
For more information see That's Manchester TV post
For booking information visit Oldham libraries website.
And to keep up to date with other activities: follow us on Twitter and Facebook.
----------------------------------------------------------
Please note, this is a guest blog. Views expressed here do not necessarily represent the views of DCMS or the Libraries Taskforce