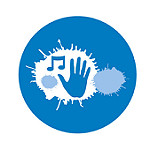 [Editor's note: Guest post written by Steph Le Lievre, consultant project officer for the Orwell Foundation - a charity which uses the work of George Orwell to celebrate honest writing and reporting, uncover hidden lives and confront uncomfortable truths. The foundation runs the Orwell Prize, the UK's most prestigious prize for political writing, and organises public cultural events. The Orwell Foundation is based in the Institute of Advanced Studies, University College London (UCL).]
George Orwell wrote his memoir Down and Out in Paris and London after he experienced sleeping rough and working on what we would call zero-hours contracts in the late 1920s and early 1930s . The classic book is now being brought to life in an immersive performance, which fuses live art, personal testimony and social activism. The event will ask searching questions about homelessness today. It will take place on 6 June and in September and we want libraries to get involved.
Like Orwell, The Orwell Foundation believes that art and literature can lead to direct and long-lasting social change. The foundation in his name is a charity which uses this work to celebrate honest writing and reporting, uncover hidden lives and confront uncomfortable truths. We are collaborating on the performance with UCL, the Joseph Rowntree Foundation, and Libby Brodie Productions. The project has received support from Arts Council England.
Save the date and get involved!
It's part of the UCL Festival of Culture, it's free, and it's happening on  6June 2018.
Down and Out Live will be a multi-disciplinary production which draws on iconic works by George Orwell and combines them with real-life, contemporary testimonies of homelessness and poverty. Directed by award-winning director Hannah Price, it will feature readings by prominent writers, actors, politicians, and activists, as well as young people who have experienced homelessness. Discussions and workshops on the contemporary challenges of homelessness and poverty will accompany the event. New poetic responses and a short film have been commissioned.
It's important for us to be working with libraries. Libraries mean a lot to many people, and especially those with very little. The people who work on the frontline in libraries see how they are a vital and treasured resource for the community. They are forces for inclusion, provide communities with resources, knowledge, and safe spaces, and can be a place to escape from isolation.
We know that poverty and homelessness are close to libraries' hearts - they see them in their work every day. Because libraries deal in books and knowledge, it's especially important for us to work with them on this performance that brings classic and new British literature alive. We are excited to be working with libraries to engage audiences in literature in new and innovative ways.
'1984' Live - activities in libraries in 2017
We want Down and Out Live to be accessible to as many people as possible. Last year, we were delighted to work with libraries on 1984 Live, our acclaimed dramatised reading of the whole book in a single day which can be watched online). The response was brilliant. Libraries organised screenings, put up Orwell displays, set up 'selfie' photo booths, screened the classic 1980s adaptation of Nineteen Eighty-Four, and organised guest speakers to speak about 'Orwellian' topics. With your help, members of the public across the country were able to be part of this event, and we achieved well over 8,000 streams. The performance took 11 hours. We know that in some libraries, members of the public stayed to watch the whole thing.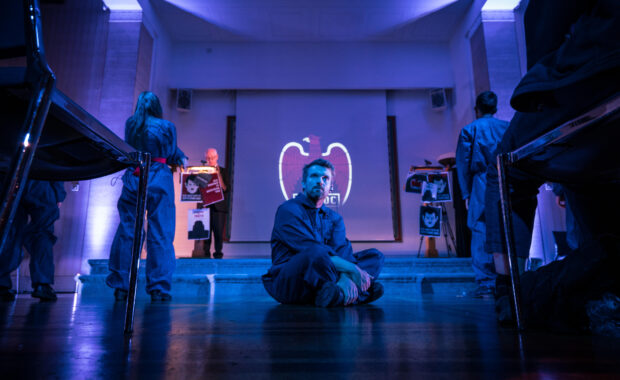 Poole Central Library, Halton Libraries, Kidderminster Library, Huddersfield Library, Redbridge Libraries and others showed the live-stream: people were welcome to drop in through the day
Lambeth Libraries held George Orwell Day as part of the Lambeth Readers and Writers Festival. They hosted 'Selfie stations' where people could borrow copies of Orwell novels as well as tweeting their own alt-fact, fake news, or as Orwell would have put it, 'newspeak'
Leeds Central Library screened the live-stream of the reading as well as a screening of the classic 1980s film version of Nineteen Eighty-Four
York Explore Library and Archive hosted two special events to celebrate Nineteen Eighty-Four: a talk with Professor John Bowen from the University of York and a talk with Dr Adam Stock from York St John University on the ways in which works of literature, film, TV and graphic novels from the 1950s to the present have engaged with Orwell's dystopian novel
How libraries can get involved in 2018
The performance this year will be a little shorter – from 2pm until 6pm! We've got a dedicated page on our website which explains how libraries can get involved and suggests ideas for tie-in events. We've even got a suggested reading list. Please get in touch if you'd like to get involved, we'd love to hear from you.
And best of all? It's not over in June: the Paris part of the book will take place in, and be live-streamed from, Paris in September.
-----------------------------------------------
Please note, this is a guest blog. Views expressed here do not necessarily represent the views of DCMS or the Libraries Taskforce