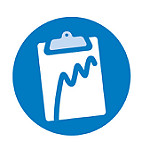 [Editor's note: Neil MacInnes, Strategic Lead - Libraries, Galleries and Culture for Manchester Council, provided a final update on this Libraries: Opportunities for Everyone funded project]
The Big Ideas Generator project ran for 12 months across libraries in the 10 councils in Greater Manchester, through DCMS' Libraries Opportunities for Everyone Innovation Funding. Our award of £250,000 was the highest amount of funding from the scheme, which was administered by Arts Council England. We last wrote in September, when the project had been active for around 3 months. This post updates the results shared then.
Big Ideas Generators delivered:
150 one to one sessions, explaining how libraries can help individuals or businesses develop ideas and innovation
150 workshops on topics such as using social media for business and free online business tools
115 events such as 3D printing, how to pitch, and crowdfunding, as well as inspiring talks
Over 3,000 attendees came in the ten months of the project. Typical feedback included:
"Really first class / Very helpful, interesting + informative"
"Very honest & genuine advice - inspirational!"
"Excellent, audience friendly content. Interactive, great presenter"
"Brilliant info, really inspiring!"
"Excellent service, I will promote to my friends and peers from my community."
The team in Manchester commissioned an independent evaluation, and the results are excellent. Headlines include:
For every £1 spent through the BIG Project there is £4.99 Social Return on Investment created through fiscal savings, wider economic benefits and improvements to wellbeing.
For every £1 invested there was a GVA productivity uplift of £4.58 to the Greater Manchester Economy.
Total Economic Impact GVA is £1,144,983
Total Social Return on Investment: £1,248,691
Total £2,393,674 (against funding of £249, 985)
84% of participants felt their skills had increased
96% of participants have increased their knowledge
70% of participants have increased their self-confidence
59% of participants have increased their self-esteem
99% would recommend the event/session to family and friends
Reflections from a member of the team
Another benefit of the project was the provision of development opportunities for staff. One of these staff members is Andrew Bailey, a Library Assistant from Oldham Libraries who was seconded to Manchester City Council for 10 months, and was one of the driving forces for the success of the project. This is Andrew's account of being a member of the Big Ideas Generators team.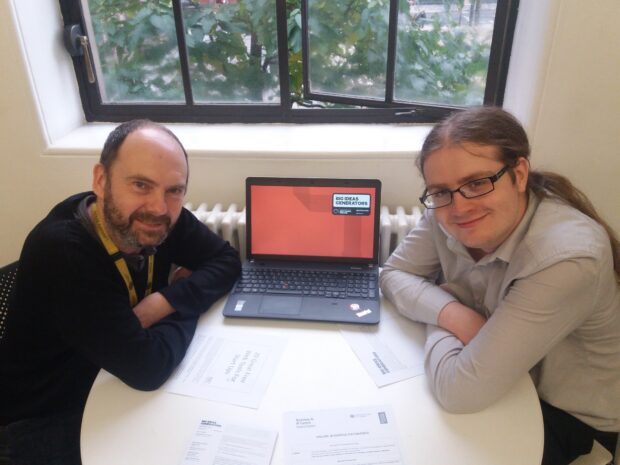 Over the last 10 months I have had the privilege of working with a wonderful team delivering the Big Ideas Generators program across all 10 Greater Manchester authorities.
Being seconded to Manchester City Council for this project has been a fascinating experience which has really opened my eyes to the way libraries are continuing to adapt to a changing world and the exciting and creative ways libraries can deliver in the 21st century. Everyone here has been so friendly and welcoming, I quickly felt "part of the team".
Working across all 10 Greater Manchester library authorities seemed like a logistical challenge when I first heard about the project. I am happy to say that thanks to the dedicated support of the local staff, both management and frontline, and the team based here in Manchester, we have been able to deliver with minimal hiccups!
The work of the project has been divided into several categories:
Workshops
Workshops are delivered to small groups of up to 15 people on a variety of topics, from cloud computing to market research to 3D printing. I found that the more intimate setting allowed us to tailor the specific workshop to the attendees' needs.
One to ones/drop-ins
The 1-1 sessions have been an excellent opportunity to speak directly with budding entrepreneurs and inventors and provide them with tailored help and access to the information they require.
The Drop-ins were a later iteration of the one to one format based on feedback to provide a more flexible option for people unable to commit to a specific appointment slot, while also promoting our offer to a wider range of library customers. They were a great success and enabled us to help many people who would have otherwise been unaware of the help available.
External events
A big part of the project is facilitating the larger events at which external providers delivered high quality training to large groups. These are typically longer and cover particular topics much more in depth than a workshop, and are thus an ideal place to signpost people. This has also given me the opportunity to improve my own skills by attending.
I am very grateful for the opportunity take part in this project, and hope that Greater Manchester Libraries continue to develop their working partnership to provide projects like this for the future.
Conclusion and next steps
The evaluation included a 3 year projection based on BIG continuing: it is estimated that the longer term Social and Economic Impact is in the region of £6.5m.
This projection adds to the legacy of the project, which includes closer co-operation between libraries and GM business support agencies, and the reinforcing of sustainable relationships with key partners. In addition it increases our credibility in shaping and influencing business support and innovation in Greater Manchester.
-----------------------------------
Please note, this is a guest blog. Views expressed here do not necessarily represent the views of DCMS or the Libraries Taskforce