[Editor's note: Alyn Thomas from Kent Libraries worked with the Taskforce on secondment for 5 months, and created new advocacy material which will help promote how libraries deliver against the Outcomes laid out in Libraries Deliver: Ambition]
When the opportunity to work with the Libraries Taskforce was presented to me, my initial reaction was to dismiss it. As a full-time Service Manager for Commercial and Customer Insight at Libraries, Registration and Archives in Kent, I have quite a lot on my plate.
Then, I thought about it a bit harder and the idea became more and more appealing – working in central London was something I have always wanted to experience (albeit dipping my toe in the water for a few days a week) and working in the heart of Westminster for a central government department was also very exciting, and something totally different.
My initial meeting with Julia Chandler clinched it when she described the communication projects I'd potentially be working on – creating a series of advocacy brochures to get 'big' messages to decision makers in central and local government, and the associated communication plans needed to ensure the brochures reach the right people. A significant project I really wanted to help with.
An insight into national strategy
The Taskforce team were great to work with, and from my first day at 100 Parliament Street on a cold January morning, they made me feel very welcome and gave me a huge amount of information, support and advice. Over the next few weeks I familiarised myself with the wide range of work the Taskforce has achieved and continues to develop: including the Libraries Deliver national strategy and action plan, plus the communications channels it uses to tell people about them: Taskforce blog, newsletter, social media, training events, and much more. A further challenge were the 101 abbreviations I needed to remember. I think I have most of them nailed now - but I still can't get my head around how DCMS constitutes the Department of Digital, Media, Culture and Sport – surely that's DDCMS?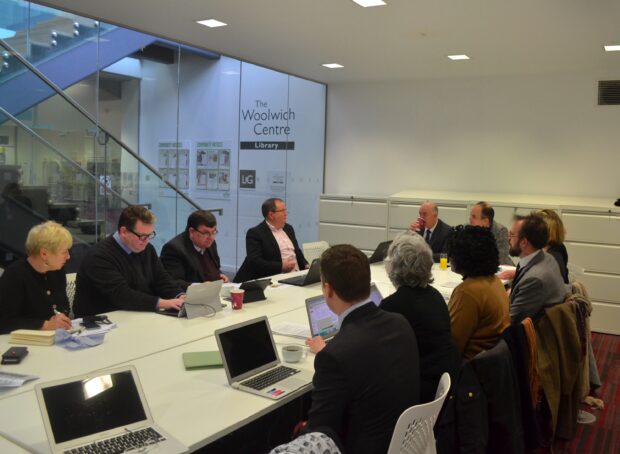 Overall, the past six months have been both challenging and fascinating. Having an insight into the way central government works - and its relationship with ministers, partners and local government for example - has been interesting. I've also been very impressed with the passion and commitment people within the Taskforce, and in wider teams have, to promote, influence, and support important work and opportunities. My brief time there suggested a huge amount of collaborative working and joined-up thinking going on, to help improve things and ensure work wasn't being done in isolation. Moreover, their breadth of knowledge relating to funding opportunities and potential pots of money across both the public and private sectors is vast.
Creating new material
Juggling two roles has sometimes been overwhelming, but working on the various advocacy brochures (available to download via the following links: Healthier and Happier Lives, Stronger Communities, and Greater Prosperity) allowed me to research and write about some of the excellent projects and programmes being delivered at libraries across the country and see the positive impact they are having on people as a result. From smoothie-making bikes in Norfolk to code clubs in Somerset, and lots in-between, working on the brochures has highlighted some brilliant examples of libraries changing people's lives for the better and the role they play as community hubs.
I hope that the brochures do reach the right people and that they enjoy reading them as much as I enjoyed writing them. Ultimately, I hope it makes them think 'libraries first' when considering future policy and strategy - because they really do have so much to offer.
I've enjoyed working with the Taskforce and would encourage anyone to do the same if given the opportunity. I'll miss the people (and working in a building that featured in a Bond film!) but I won't miss the commute!
---------------------------------
Please note, this is a guest blog. Views expressed here do not necessarily represent the views of DCMS or the Libraries Taskforce