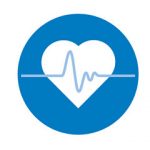 [Editor's note: Craig Tobin, Macmillan Project Manager for Macmillan in Lanarkshire, Scotland writes about their programme of activities. Many will be familiar to those who work with Macmillan in libraries across England, but this multi-member partnership and programme might also spark some new thinking.]
Macmillan in Lanarkshire was launched in 2016: a dynamic partnership between CultureNL, South Lanarkshire Leisure and Culture, North Lanarkshire Leisure and Macmillan Cancer Support. The programme covers 2 local authorities and operates 19 cancer support and information services across Lanarkshire libraries. The network includes 4 cancer support hubs where people affected by cancer have:
access to emotional support
on-site complementary therapies
access to benefits advice
help with transport to and from appointments
practical support in the home and, most importantly
someone to talk to in their time of need
This is a true example of partnership working where relationships with NHS Lanarkshire, Health and Social Care, and in particular with the Health Improvement team, have strengthened the vision and role of libraries to become health hubs in the heart of the Lanarkshire communities.
As one of the support services librarians said: "I have a health and wellbeing theme as part of my role, and am delighted to see the cancer information service emerge, and hear how it is already supporting many in our communities who are affected by cancer, and how vital that support is".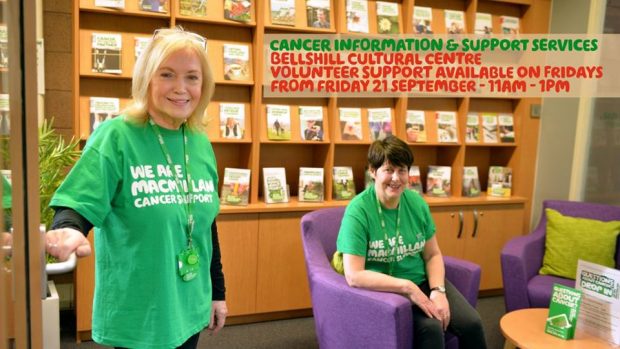 People who have used the service value it in many different ways - here are just 2 pieces of feedback:
"Once you have been patched up by the doctors – who do a brilliant job – you are on your own and are just left. Places like these mean someone is thinking of the more holistic approach and caring about all of you not just the physical bits"
"I took the recipe and build up diet books for my mum and she is now eating like a horse. She's gone from 5 stone 3 pounds to 6 stone in 3 weeks. These books have been so helpful - my mum was just not eating before."
Move More Lanarkshire
Macmillan In Lanarkshire is also responsible for the Move More Lanarkshire project, a physical activity programme consisting of health walks, Chi Gung based classes, gardening and circuit classes. Physical activity is seen as a core component to contemporary cancer support and health benefits can include reducing fatigue from treatment, increasing energy levels and peer support.
The volunteer-led, community based programme has delivered cancer support and information to over 300 people affected by cancer throughout 2017 making 120 onward referrals for 81 individuals.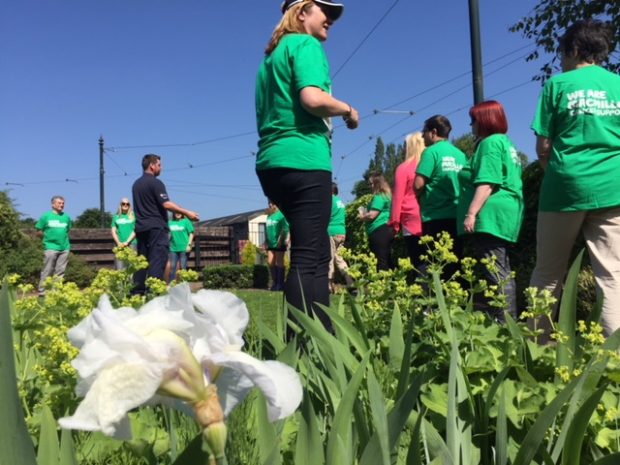 There have been 1300 attendances at Move More classes with more than 50 volunteers donating time to provide both these important services. And taking part in this service is motivating for volunteers too: "It was amazing to see someone progress with their mobility from not being able to lift their arms to lifting them because of something I'd helped them with. Made me feel very proud" Ada Harkin, Gentle Movement volunteer
Next steps
The link between acute and community care is increasing and the need for a seamless transition of support for patients from hospital appointments to community support is more evident. With library and leisure volunteers soon to be delivering services and information in hospital wards the future for cancer support is very bright in Lanarkshire.
For more information contact Craig Tobin, Macmillan Project Manager on 01698 332 631 or email tobinc@culturenl.co.uk (or find him on twitter). Follow @MacmillanLan on twitter or like us on Facebook to keep up to date with the latest information with the project.
-------------------------------------------------------------
Please note, this is a guest blog. Views expressed here do not necessarily represent the views of DCMS or the Libraries Taskforce