https://dcmslibraries.blog.gov.uk/green-libraries-week/
This October, the annual Libraries Week transforms into Green Libraries Week, to celebrate the work going on in libraries across the UK focused on sustainability and climate change.
Libraries have shown their flexibility and ingenuity in support of a better climate future. They are looking at how they can improve their buildings and operations, but equally as important, they are using the physical and virtual spaces to support library users in going green, and supporting the local communities that they serve to support climate action.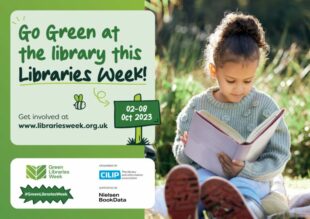 During Green Libraries Week, 2 to 8 October, Green Libraries Partnership are working with libraries across the UK to encourage library users and non-users of all ages to 'Go Green at the library'. The Green Libraries Week interactive map plots the innovative and exciting green events and activities that are taking place around the country.
Activities include:
Be inspired and find out more here - https://librariesweek.org.uk/