[Editor's note: This guest blog was written by Rose Goddard, World Book Night Project Manager at The Reading Agency]
World Book Night is just around the corner, and we're gearing up to celebrate reading, books and the 400th anniversary of Shakespeare's death in libraries across the country on Saturday 23 April. Libraries have a vital and central role to play in World Book Night, acting as collection points for volunteers picking up their books, hosts of exciting author-led events, and even as book givers themselves. This huge, nationwide event simply wouldn't be possible without their support and reach.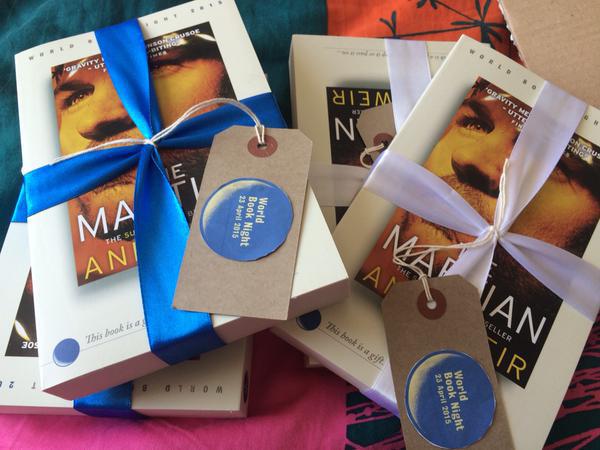 Sector engagement
One of the five 'spikes' in libraries' Universal Reading Offer, World Book Night enables libraries to play a demonstrable, creative role in community participation and cohesion. It also leads to increased footfall and new members, as givers come to collect their books and attend events. Libraries from an impressive 98% of library authorities signed up to act as collection points in 2016; great progress towards the Taskforce's proposed goal of increased and then universal participation by 2021.
This enthusiasm is reflected back by the thousands of givers themselves, 83% of whom said they planned to return to the library or bookshop from which they collected their books to buy or borrow books in the future. Together, World Book Night and libraries illuminate the power of working at a local, grassroots level to help build and sustain strong reading communities across the UK, getting people engaging with and talking about books.
Events
On World Book Night itself, we thought it fitting in 2016 to team up with the British Library, for a special gala evening celebrating reading and Shakespeare. The night will kick off with a stellar panel of World Book Night authors past and present, including Matt Haig, Sathnam Sanghera and Dreda Say Mitchell who will discuss the place of books in their lives and read from some of their favourites, and will continue with a Late at the Library: World Book Night celebrates Shakespeare birthday party.
Dozens of regional events will be taking place at libraries and other venues nationwide, too. The first Big North Book Run will take place across the north east, featuring World Book Night and Quick Reads authors Ann Cleeves and Lucy Diamond. Amanda Prowse will appear at Yate Library in South Gloucestershire, while comedian and author Jenny Eclair will be talking about her latest novel at Blackpool Central Library. Lots of other giveaway events will be happening all over the country, so check out what's happening near you on our website.
Get involved
Get tickets to our British Library event
If you're planning an event, we'd love to hear about it: email us here.
---------------------
Please note, this is a guest blog. Views expressed here do not necessarily represent the views of DCMS or the Libraries Taskforce