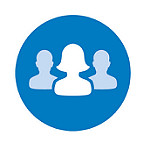 [Editor's note: Carol Boswarthack, Head of Barbican and Community Libraries for the City of London and Adam Johnstone, Strategy Officer – Housing and Adult Social Care write about how 'libraries first' has been adopted in the City of London]
Loneliness is a major public health issue - we know that feeling lonely can have negative consequences for both mental and physical health. Chronic loneliness has been found to be more harmful than smoking 15 cigarettes a day, can double the risk of developing Alzheimer's and can increase the risk of premature death by up to 30 per cent.
There is a need not only for health and social care services to act on isolation, but for a wide range of public services, voluntary groups and businesses to play their part in making it easier for people to connect with one another. Libraries Deliver: Ambition highlighted the central role public libraries can take to create stronger and more inclusive local communities. It stated that:
"There are also health benefits to be derived from having a free, supportive and accessible community space to spend time in; for example, increased opportunities for interaction with other users helps reduce social isolation, a major and growing concern for health professionals."
How to reduce loneliness in the City?
The City of London Corporation organised a series of Social Wellbeing Panel hearings to learn more about how to reduce loneliness in the City and to hear about successful interventions implemented elsewhere. I was asked to speak on behalf of the City's libraries and was keen to promote the library as a safe, neutral space, in which people feel they belong and can visit, with neither an invitation nor a companion.
Case Study: Shoe Lane Library
Shoe Lane Library is situated in the business heart of the City. Yes, there is housing but it is scattered and the library is the only community facility in the area. The weekly Stay and Play sessions have provided a meeting place for local parents, many of whom are working in the City and are far from family and friends. One professional couple, thousands of miles from home, were really struggling as brand new parents. Through the group, they met other parents and family workers from the City's Early Years team who were able to provide concrete support to enable them to enjoy parenting instead of being terrified by it.
Adam Johnstone, the Strategy Officer leading on loneliness and social isolation for the City Corporation, said:
"Carol's evidence to the Panel really chimed with what many others also told us – that shared spaces are needed to enable relationships to develop naturally. These spaces should be welcoming and informal. They should have a genuine sense of community ownership and must not appear to be the front door of statutory services. Libraries fit the bill perfectly."
The City Corporation's Social Wellbeing Strategy has now been approved and includes a commitment to adopt the 'Libraries First' approach outlined in Libraries Deliver: Ambition.
In practice this means looking to locate new community spaces – much needed in the busy Square Mile – within the libraries. Shoe Lane Library in the west of the City has recently been refurbished to host a new wellbeing area, complete with cosy seating, a coffee machine and iPads for reading e-magazines, all of which will encourage social interaction. A more ambitious project at the Barbican Library hopes to provide the local community with a separate, multi-use, low-cost space, bookable by groups where social activities can be run.
What next?
As the other strands of its Social Wellbeing Strategy are rolled out, the City will look to its libraries first as the place for new activities to be located. When the City started working with Age Concern on a pilot project to support older women from the Bangladeshi community, the Portsoken Health and Community Centre, a satellite of Artizan Street Library, was the natural place for the new group to be based. As the Barbican Arts Centre looks to engage more local parents with its family programme its Barbican Blocks play and learning experience will be going on a tour of the Stay and Play sessions that are already hosted in the City's libraries.
Going forward, the landscape as described in Libraries Deliver: Ambition provides an aspiration for community services in the City of London and instead of reinventing the wheel, we will continue to look to our libraries for innovative solutions.
----------------------------------------
Please note, this is a guest blog. Views expressed here do not necessarily represent the views of DCMS or the Libraries Taskforce