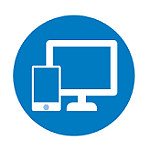 [Editor's note: Post written by Siobhán McKenna - Senior Policy Officer in the Diversity & Social Policy Team at the Greater London Authority]
Last month we launched the Mi Wifi pilot in Deptford Lounge library in Lewisham. This innovative pilot – the first of its kind in London – will test whether lending wifi enabled tablets through local libraries or community centres, along with some basic digital skills training, will help reduce the nearly one-in-ten digital exclusion rate in the borough of Lewisham.
We know that digital exclusion, when compounded with wider social and economic exclusion, can be a very real barrier to earning, learning and living well. This particular type of exclusion is generally experienced more by older and disabled Londoners and those from disadvantaged backgrounds – who are the focus of our pilot. We are testing out whether this type of help can support Londoners to overcome economic disadvantage, social isolation and low-levels of wellbeing. The pilot will also lend devices to community groups to help them upskill their staff, volunteers and local communities.
Practical details of our project
Library staff in Lewisham spent a considerable amount of time testing various technical approaches to keep the equipment safe as we lent it to residents and also, most importantly to keep vulnerable, first time users safe whilst online. We were hoping to use Android devices (which we believe are more user friendly and affordable) but we couldn't find an end-to-end security and protection system that was as robust as the system for iPads. For example, we can wipe the iPads remotely if they get reported lost or stolen. So the project is now lending 70 iPads to Lewisham residents to help them get online.
There are a range of apps preloaded onto the tablets – including ones for tracking and monitoring use. Along with many familiar apps people would expect– Skype, BBC, Adobe - we've also preloaded some of our library apps: for example Zinio for Libraries, a special edition for reading digital magazines from your local library and Overdrive (for library ebooks and audiobooks). We've also written a number of guides (located in the iBooks app) on how to use the preinstalled apps.
Library champions were selected to support the rest of the staff and do general maintenance of the tablets. The library champions are 2 senior library assistants from each hub branch (Lewisham, Downham and Deptford). They will support the volunteer trainers by preparing the tablets for loan and wiping the devices when they are returned. We've developed a number of guides to support the staff: Mi Wifi Champions guide, Mi Wifi Entitlement Requirements and Mi Wifi Staff Guide.
Launch event
The event, opened by Matthew Ryder, the Deputy Mayor for Social Integration, Social Mobility and Community Engagement, was attended by Lewisham community and voluntary sector organisations, digital inclusion advocates and partner organisations, who will all work together to help Lewisham residents get online.
Councillor Chris Best, Cabinet Member for Health, Wellbeing and Older People, spoke of her gratitude for the support from City Hall and her excitement over the project and how it would ensure that libraries in Lewisham will continue to be a vital resource at the heart of the community in the borough. Matthew spoke of the Mayor's commitment to this agenda and how excited the GLA team were to be testing this pilot in Lewisham, a former Go On UK pilot borough; that tested and shared new ways of reaching those most in need of digital inclusion support in the borough.
Next steps
With the recent arrival of the Chief Digital Officer, whose digital transformation role includes digital inclusion, we hope that this will be the start of finding innovative approaches to helping more Londoners to get online and benefit from the digital life of the capital.
--------------------------
Please note, this is a guest blog. Views expressed here do not necessarily represent the views of DCMS or the Libraries Taskforce