[Editor's note: Kim Bromley-Derry, Chair of the Libraries Taskforce, shares his reflections on 2017 and looks ahead to a packed work programme in 2018]
Plans and priorities
At the start of 2017, the Taskforce had just published the Libraries Deliver: Ambition document, with a packed Action Plan alongside it. The first year of activity was designed to start laying the foundations needed to achieve the aspirations set out in Ambition. As a relatively 'new boy' - I joined the Taskforce in the middle of the year and I took over the Chair at the December 2017 meeting - I can look at the work the Taskforce did in 2017 in a relatively dispassionate way. But I have to say that what I saw was very impressive!
So did it achieve what it set out to do over the year? The team recently published a blog post about the actions and projects they've taken forward. I want to write about how I see things developing in the future, but before I share my reflections, there are some thanks to say to departing Taskforce members, and welcome to some new people.
Dr Paul Blantern, who chaired the Taskforce through those vital days of developing and publishing Ambition, and taking forward the first year's work on the Action Plan
Brian Ashley, Arts Council England's Director of Libraries, who retired in the autumn
Iain Varah, who represented the Chief Cultural and Leisure Officers Association (CLOA)
Dominic Lake, the DCMS Deputy Director who led on Arts and Libraries
Rebecca Cox, representing the Local Government Association (LGA) (who is now on maternity leave)
And we were delighted to welcome:
Polly Hamilton, the new CLOA representative
Kate McGavin and Helen Williams, the (job share) Deputy Directors in DCMS who lead on libraries
Dr Neil Churchill, NHS England's Director of Participation and Experience
Paul Bristow, Director, Strategic Partnerships: Arts Council England (ACE), who has represented ACE on an interim basis whilst their new Libraries Director was being appointed
Councillor Mike Bell, a member of the LGA's Culture, Tourism and Sport Board
It's always healthy to get a churn of members on any group to bring in new thoughts and ideas, as well as having some continuity to maintain knowledge and experience, and it's a pleasure chairing a group of people with such commitment to, and passion for, public libraries in England. I'm also pleased that 2018 will see us joined by:
Sue Williamson, who will be taking up post as Arts Council England Director of Libraries in March
Professor Steven Broomhead, Chief Executive of Warrington Borough Council
Sue Cook, interim Chief Executive of Suffolk County Council
The latter 2 in particular will be working with me to help engage with our council chief executive peers across England to advocate for library services.
We've also dealt with a changing cast amongst our sponsors in DCMS and LGA. We worked with Rob Wilson (in the time while he had libraries as part of his Minister for Civil Society remit) and John Glen (as Minister for Arts, Heritage And Tourism) during 2017; and I look forward to working closely with Michael Ellis who has recently taken over John Glen's role, including the public libraries remit. Cllr Ian Stephens stepped down as chair of the LGA's Culture, Tourism and Sport Board during the year, and was succeeded by Cllr Gerald Vernon-Jackson, who I also look forward to working with over the coming months.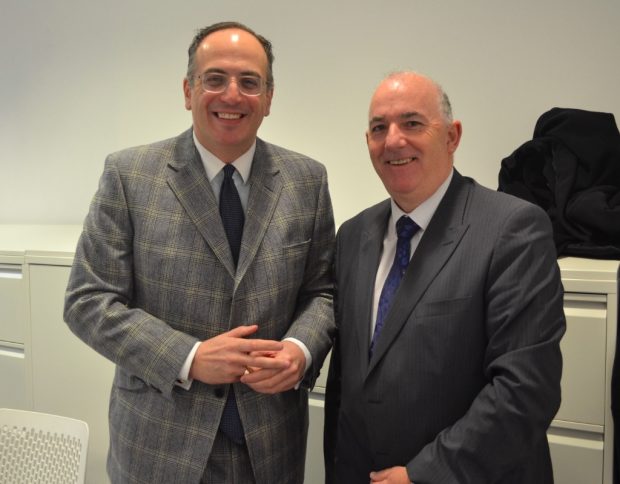 A voice for libraries
I've noticed how members of the Taskforce team have met with various government departments at official and ministerial level, as well as a wide range of people from partner organisations, the library sector and beyond. They've been highlighting the value of libraries and the work they are already undertaking to support delivery of various central government policy priorities. The Taskforce has also featured at numerous conferences, and the team has visited libraries in over 30 authorities. You can find out more about who we've seen and where we've visited in our 6 month progress reports, which are published on GOV.UK.
The Taskforce is building a stronger evidence base to help support what we are saying about the value of the sector. As well as the community managed libraries research we've already published, and plans to work more closely with the DCMS Mutuals team as they undertake research into that model, ACE also published a number of research studies on libraries' impact on communities, and The Reading Agency did more testing to refine its Reading Outcomes Framework further. These, and other, pieces of research were included in the new research database we published, and we collated a list of future research priorities following wide consultation with the sector,
Alongside this, we published our basic dataset and developed the contents list for a new core dataset - this includes the data the sector has decided it needs to manage and improve its services. During 2018, we'll be continuing to work with library services, library management system suppliers and other partners to test the most effective and efficient ways to publish the core dataset.
What will we focus on during 2018?
We'll shortly publish our action plan covering 2018 through to 2020. We've often talked about the importance of focussing on outcomes rather than activities, so we've recast the plan to focus on goals and outcomes.
The Taskforce will continue to use its 6 month progress reports to tell people about what we have achieved against the outcomes we've set ourselves and what we are intending to do in the future. We'll also continue to identify challenges which would benefit from central support or where we can use our collective influence and convening power to make things happen.
From where I sit as a local authority Chief Executive, I'm particularly keen to develop the work the Taskforce has started to help position libraries and what they do more strongly in the minds of those delivering other strategic services and outcomes. If libraries become more integrated in supporting delivery of a wide range of vital services into local communities, rather being regarded in isolation, they stand more chance of receiving the recognition and, maybe most importantly, the resourcing that they need to survive and thrive. I spoke about this at the London masterclass we ran on strategic planning and I will try to champion this approach at all levels throughout my time as chair of the Taskforce.
The Taskforce needs to develop and gather data which backs up these approaches to decision-makers, and demonstrates the positive impact that libraries have in terms that decision-makers will recognise and warm to. And it needs to ensure that those working in libraries are well-informed (so they can use learning from others, in the sector and beyond, to improve what they do) and are supported to develop the skills they will need to adapt and thrive through changing circumstances and future challenges.
So during 2018, I particularly look forward to seeing (among other things):
the contribution that library services can make being recognised and integrated within an increasing number of others' strategies, in both central and local government and other public services
learning and ideas from the Libraries: Opportunities for Everyone Innovation Fund fund being captured and used
implementation of the Public Library Skills Strategy, to help the workforce become better equipped to respond to changing demands
the findings from the British Library's Single Libraries Digital Presence scoping work
our core dataset for libraries beginning to be implemented and used for benchmarking and service improvement
a continuing flow of blog posts and case studies which will illustrate the rich diversity of activities going on in libraries across the country.
As you can see, we've covered a lot of ground in 2017, and we know there is lots still to do. I look forward to working with the Taskforce, and with people across the sector and beyond, over 2018 to achieve the outcomes we set out/we'll be setting out in our action plan, and to position public libraries increasingly strongly in the thinking of decision-makers in central and local government and other potential partners.
And finally….
There are a number of changes coming up in the different organisations that make up the Taskforce. For example, the Society of Chief Librarians will benefit from extra funding as a result of becoming an Arts Council England National Portfolio organisation and are recruiting a new Chief Executive and Board of Trustees. CILIP has announced how it's adapting its membership model to be more inclusive and affordable - recognising that the information professionals of the future will come from many different disciplines and educational backgrounds. Arts Council England has appointed a new Director for Libraries, Sue Williamson, who will be starting on 12 March and will be leading its response to the libraries-related aspects of the ACE Tailored Review.
As DCMS funding for the Taskforce ceases in March 2020, we have already started thinking about how work that the dedicated Taskforce team is currently doing starts to become mainstreamed into other Taskforce member organisations over time. The changes described above provide new, and very positive, opportunities for the Taskforce to become ever more sector-led, with individual Taskforce member organisations stepping up to take more of a lead on certain aspects of its work. You will hear more about our transition plans over 2018.
As the Taskforce and its work moves into this new phase, Kathy Settle, who has been the Taskforce's Chief Executive since its inception, has decided the time is right for her to move on too, at the end of March 2018. There will be plenty of time to put on record our thanks to Kathy for all her hard work and leadership over the past three years - especially when I know she only signed up to the role for one year originally! - but both I, and Paul Blantern as my predecessor, have greatly valued her support, insight and experience and she will be sorely missed. However, I know the rest of the Taskforce team, who will be led from April 2018 by Sheila Bennett (the current Policy lead), will seamlessly continue to provide excellent support to the Taskforce and the wider sector on Kathy's departure.
I look forward to continue working with you all in 2018.