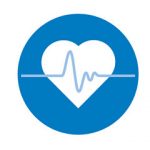 [Editor's note: Guest post written by Hillingdon library service's Daniel Waller, about their use of the Tovertafel device in Uxbridge library, as part of creating a dementia friendly community]
On Friday 24 November Uxbridge Library officially unveiled the first Tovertafel, which translates as magic table, in a public library anywhere in the world. The launch was part of our regular dementia friendly coffee morning with special guests including Boris Johnson, MP for Uxbridge and South Ruislip, Councillor Ray Puddifoot MBE, the leader of Hillingdon Council, John Ramsay, the CEO of Shift 8, the UK distributor for Tovertafel and Cherry Bushell of the Alzheimer's Society.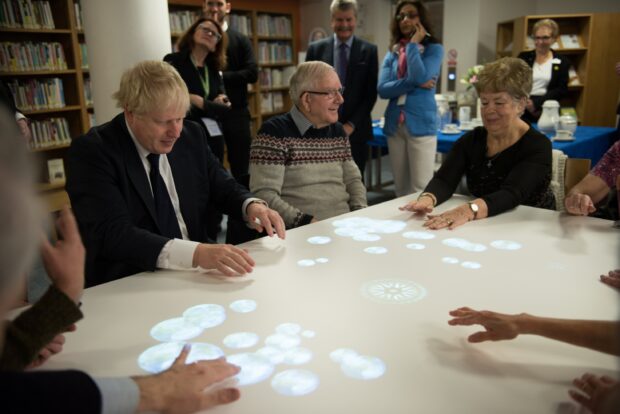 Boris Johnson congratulated Hillingdon Council on our commitment to helping people with dementia. The Tovertafel is a very personal project for CEO and founder, John Ramsey. John's father was diagnosed with dementia at just 52 and John's own experiences have shown him just how difficult it is to maintain relationships. John explained how the company are committed to "creating moments of happiness and magic."
What is a Tovertafel?
So what is the Tovertafel? It is a ceiling mounted projector that projects light games onto a standard everyday table. People can interact with the images of the games using their hands and arms. It was developed in Holland by as part of PhD research by Hester Le Riche at the Delft University of Technology (TU Delft). It is made by Active Cues and distributed in the UK by Shift 8.
I came to hear about it when it was demonstrated in a meeting of the Hillingdon Dementia Alliance, which consists of 28 local organisations working towards creating a dementia friendly community. My colleague Sarah Durner from the Sport and Physical Activity team told me about the Tovertafel and I was intrigued. Libraries in Hillingdon work closely with the Sport and Physical Activity Team and both our teams could see the potential use of the Tovertafel in a library setting.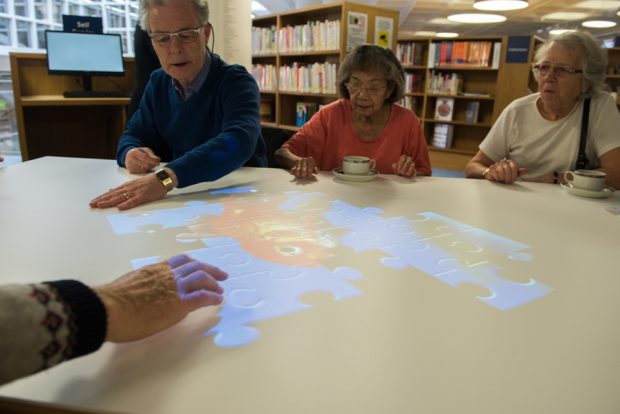 Hitherto Tovertafels have been installed solely in care settings. We arranged a library focused demo and we were blown away by what a fantastic piece of kit the Tovertafel is. The games were wonderful to interact with and it was so easy and uncomplicated to use. We got the green light to apply for external funding. Unfortunately our bid was unsuccessful but we applied to the Leader of the Council's Older People's Initiative fund and funding from within the council was identified. We were looking initially at two Tovertafels but the Leader of the Council was so impressed he said buy four!
Shift 8 have been a great partner and have worked very hard to assist us in having the first Tovertafel installed in our Uxbridge Library within two weeks of funding being identified to help us meet a deadline for a launch event.
Benefits of the Tovertafel
The launch went incredibly well. Members of the dementia group have really enjoyed using the Tovertafel and it has stimulated more interaction and communication in the group. The Tovertafel has been developed to also have a relaxing and mood enhancing effect that users benefit from for the rest of the day, not just whilst using the Tovertafel.
Other benefits include:
increased physical activity
improved social interaction
stimulated initiation of interaction between people
lengthened time engaged with an activity - known to stop people wandering off
anxiety is minimised and focus is increased through the play element of the game
they create a safe environment to interact freely
only a remote control is required to get the game started so technical requirements for the game are minimal
the games have a layered design so that everyone at different levels can interact together: talking, looking at each other, playing together and laughing with each other
Plans for the future
We are now working towards having three more Tovertafels installed in other libraries in Hillingdon. We have initially focused on the games that are dementia friendly but once we have all four Tovertafels in place we will be expanding activities to include the games for people with learning difficulties and the autism friendly games.
Although we are just at the beginning of this innovative new service, I can see the Tovertafel being taken up by many more libraries as it offers a wonderful means of access to life enhancing technology for people with dementia, learning difficulties and autism in a public setting. With health and wellbeing being so intrinsic to the libraries, this is exactly the kind of service we should be offering to our communities.
You can find out more and arrange a demonstration of the Tovertafel.
To keep in touch with activities in Hillingdon libraries, follow us on twitter or look at our website.
---------------------------------------------------------
Please note, this is a guest blog. Views expressed here do not necessarily represent the views of DCMS or the Libraries Taskforce