When you mention the words 'library' and 'Birmingham' in the same sentence, most people will immediately think of the blue and yellow cube in Centenary Square. That's not surprising, as the Library of Birmingham with its distinctive lace-like facade has become an easily recognisable icon of the city. It's appeared in the introductory sequence to BBC news, numerous artworks, and now even featuring on a stamp and in the Lloyds Bank advert.
What fewer people think of are the 36 other public libraries which also serve the people of the city, which, although they are collectively labelled community libraries, are (all bar one) managed by the council. A new structure is being rolled out, involving 4 tiers of provision. I was privileged to visit 3 libraries in the area recently which illustrate how library services continue to evolve, and hear from members of the team about the role they fill in their communities.
Thimblemill library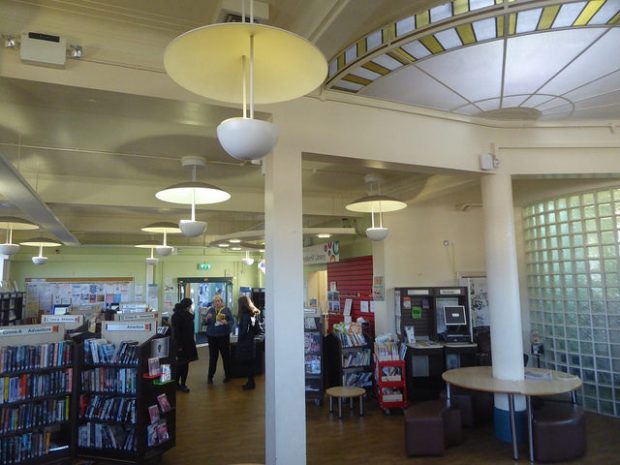 First stop on my visit was Thimblemill library, which was named as the UK's first ever library of sanctuary in 2017. Although 'over the border' in Sandwell, members of a working group which include colleagues from Birmingham are looking at what the team do in Thimblemill, and how this award-winning work might be replicated across the West Midlands.
The library is a wonderful Grade II listed art deco (or moderne) building and is clearly well used. There are tons of activities going on, people popping in, partners who use the meeting rooms (of which there are lots, of different sizes) and many events which emphasise bringing people together. The library team shared lots of examples of new friendships that have been forged in Thimblemill library. Their upstairs rooms are heavily used - from a ukulele group through to an organisation who provide practical advice to people from Eastern Europe, plus individual tutors who make good use of their smaller rooms.
Selly Oak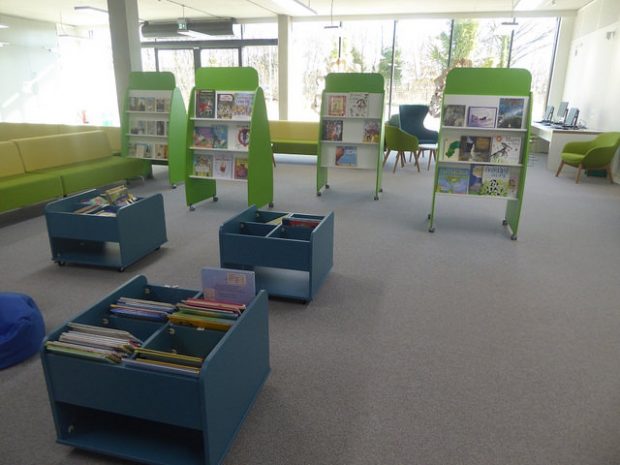 The next library we visited was the new Selly Oak library - one of Birmingham's new tier 3 partnership libraries. A tier 3 supported community library is run by a community organisation, from either their own premises or via a transferred facility. The city council's library service works in partnership to support the organisation through providing a 15 hour library worker, books, and investment in self service equipment.
It's a bright space in a new build HQ of a charity: TouchBase Pears which works with deaf/blind people. A really interesting centre, it (and therefore the library) is open long hours, from 7.30am during the week. When the specialist library staff member is not around, staff on the reception desk can help with basic enquiries, plus there is a self service machine for book loans and returns.
Other facilities in the building include a cafe, performance space, and different studios where people can learn life skills. The library had been open a month when I visited, and was clearly still a work in progress, but there is tons of potential - and lots of lessons around working with people with these disabilities which will be useful to share across the sector.
Tier 4 provision
On the way to our next library, we passed an example of tier 4 provision. Tier 4 Community Initiated Library Services are how the city supports any local schemes that are put forward which increase access to one of the Universal Offers, by providing a one-off pump-priming grant. Bournville hub is a centre in Bournville that provides a huge range of community activities and digital support. It applied and secured funding to deliver a number of cultural activities. It also provides access to books through an honesty library scheme, and runs the annual Bournville Book Festival. It's an example of how to deliver a specific objective, overseen by the library service. This service illustrated the messages from the strategic planning masterclass that I attended the previous day: "start with the objective first, then work out how the service can, or already does, deliver it".
Kings Norton library
Our last stop was Kings Norton - a Carnegie library that was one of the 5 in Birmingham which received Wolfson foundation funding to refurbish its children's section. The project delivered different results in each library: some did structural work, while others focussed on furniture/fittings/equipment.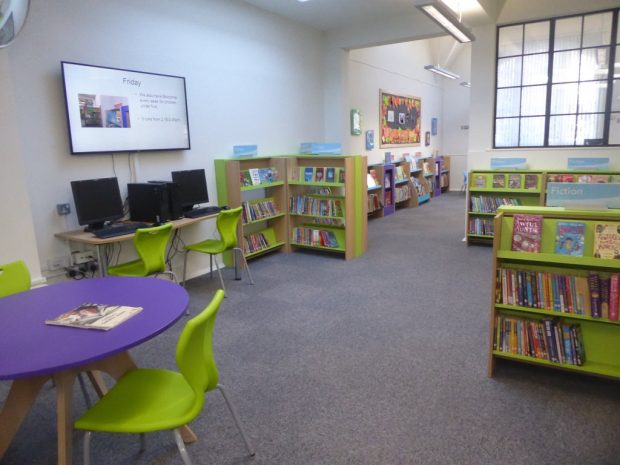 Kings Norton was one of the latter, so there was a very noticeable change between before and after. The building retains lots of original features: there is stained glass in many of the windows, dark wooden panelling and fitted bookshelves. There are a lot of pillars, which make any substantial remodelling in the main space difficult, but there are clearly areas which have evolved so people can gather around tables for group sessions, or quiet study areas for individuals. Note: they had also had structural issues (leaky roof) but in their case, getting the Wolfson fund money meant that the council also provided funding to repair the roof and put new carpets throughout!
Reflections on changes to library service in Birmingham
It's exciting to see the library service evolving to work more closely in partnership with new organisations and volunteers. The team described how they were pleased to have heard from local citizens who made it clear through the three month consultation process that they value a library that is easily accessible within their community.
By introducing a tiered model they have maintained all their sites (except for Kents Moat which is in an area of redevelopment). They are shortly hoping to reopen West Heath Library and Sutton Coldfield Library supported by FOLIO (Friends of Libraries in our Sutton Coldfield) - the latter of which is currently being refurbished to incorporate the children's play café Little Green Book worms.
Staff have recently had training to support them in new ways of working, delivered by the council's in-house training team - Learning and Development consultants who are based in the Learning Academy of the Change and Support Services Directorate.
Conclusions
Although I only visited a couple this time, it's clear that there is a lot going on in the libraries serving the different communities around the city - it's worth digging a bit deeper to see the richer picture.
To keep up to date with activities in libraries across Birmingham, follow them on twitter or look at their web pages.