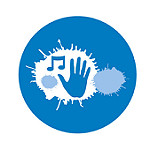 [Editor's note: Guest post from Helen Green, Innovations and Inclusion Officer for Bradford Libraries].
Bradford Library Service, with funding from the Libraries: Opportunities for Everyone Innovation Fund, have been able to offer an exciting and innovative approach to presenting well known stories to people with special needs.
Working closely with Purple Patch Arts, who originated this concept, we have put together twelve different sensory sacks. Some for adults, and some for teenagers and younger children. Purple Patch Arts operates across Yorkshire, working with groups and supporting organisations to improve the lives and life chances of people with learning disabilities, by providing innovative, inclusive, creative learning experiences for them and the professionals that support them. They have also worked with Kirklees Libraries on a similar project.
In November 2017, Purple Patch Arts facilitated training for 16 library staff, including 4 library volunteers. The training was one (short) day a week for three consecutive weeks. The first session was disability awareness, which proved thought provoking for the participants, and will definitely result in some changes to our normal practises. The following sessions centred on familiarisation with, and presentation of, the story sacks.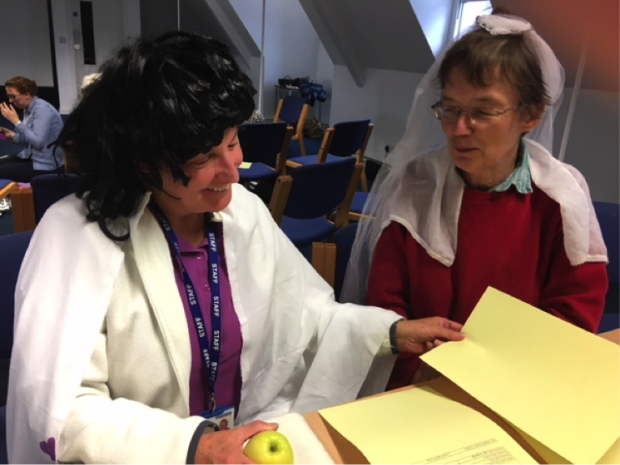 Contents of a story sack
In essence, the stories are small extracts from the original text, possibly one sentence each with a bit of explanation and a sensory element. There may be up to 15 exerts which, combined, will give the gist of the story and use the original language. For more complex stories, for example Midsummer Night's Dream, we concentrated on the fairies and left out the four lovers and the mechanicals.
Each session, we start with a warm up and fun way to remember each other's names and re-cap on the previous week's story. We use sign language to introduce the new title and, after reflection of the session, we finish with a signed version of Nina Simone's 'I'm Feeling Fine' to music.
Initially, we worked with just the 4 story sacks of:
Jane Eyre
Midsummer Night's Dream
Blythe Spirit
Under Milk Wood
but we will shortly be introducing:
The Hobbit
Hitchhiker's Guide to the Galaxy
Harry Potter
Matilda
Gangster Granny
Cat in the Hat
We're Going on a Bear Hunt
Shark in the Park
Participants' reactions
The feedback from the participants and the practitioners has been excellent.
The overriding response has been laughter. Everyone has had such fun and, whilst the texts might on first impressions seemed quite heavy going, the sensory elements and the relationship you build up with the participants has resulted in a lot of fun, and becoming familiar with fantastic stories and authors.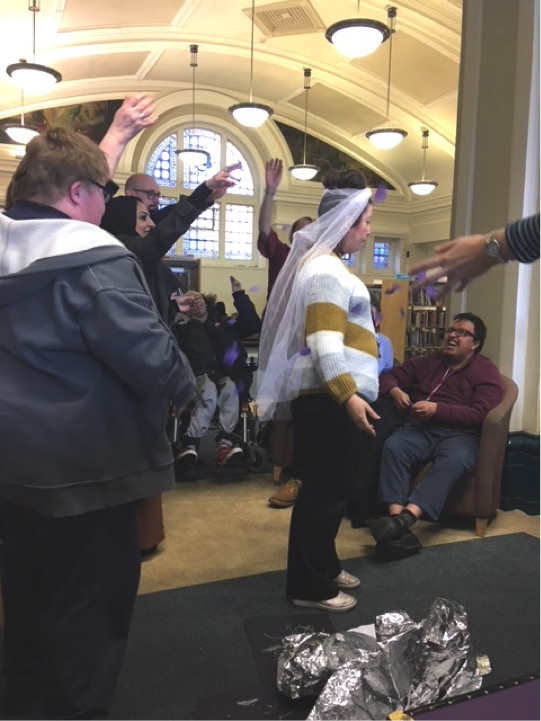 Four of the five groups have taken place in the open library space. One group wanted to come and look at the various spaces we could use, including a meeting room, but they chose the open library. And one group of children with complex health needs took place within their school.
When asked "What will you remember most from the story time sessions?", the responses were as follows:
having fun with my group and doing the warm up, and getting picked to wear a prop
I like hearing the story and holding the objects
the stories, especially Jane Eyre
dressing up and acting the parts. The tree acting in Under Milk Wood
Jane Eyre and other stories. Felt great at the end. Songs. I enjoyed stories
the part I remember most was the song, and the sign language. I liked Midsummer Night's Dream most
enjoyed holding things. I liked wearing the props
joining in the props
being in the library
it was funny
they made me laugh
the knights and the stories
We have also run one-off story times to children, and young adults with special educational needs and disabilities, to a further ten groups. None of these groups had been to one of our libraries previously. The one-off story times focused on a book called The Great Dog Bottom Swap by Peter Bentley. These were part of the Bradford Festival events, and also National Library Week. Purple Patch also created a Sensory Story for 'I Am Not Sleepy and I Will Not Go to Bed' by the Children's Laureate, Lauren Child, for events during Children's Book Week.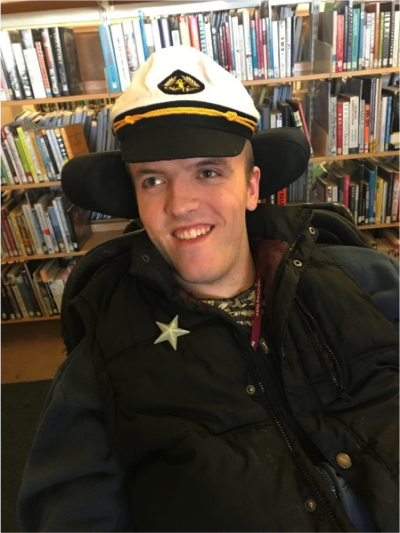 Future plans
We are also planning further sensory story times for children with special needs for World Book Day, and also Make a Noise in Libraries fortnight in June.
When the groups come into the library, we also tell them about the library, and give them an application form for a library card.
One of the surprises is that some of the groups have told us they did not think they were allowed to come to libraries, in part because they were worried about making noise. Hopefully, their experiences on the scheme will have dispelled any such thoughts.
We have run four week Sensory Story times to 5 groups, and have 5 further groups starting in February and March.
We now have a waiting list of groups who would like to participate.
-------------------------------------
Please note, this is a guest blog. Views expressed here do not necessarily represent the views of DCMS or the Libraries Taskforce