[Editor's note: Guest post written by Liam Garnett, after he read the Libraries Deliver newsletter and suggested it would be interesting to read about local stories too. I agree - and invite other frontline staff to contact us and share their news.]
My name is Liam Garnett, and I'm an Assistant Communities Librarian for Leeds Libraries. I put together this short blog to showcase some of the stellar work our staff has been doing with local communities.
Shared reading group in Seacroft
Sue Wright is a library assistant at Seacroft Library, and has been with the library service for 16 years. Prior to that she worked in nursing. She has been running a shared reading group at the library with residents from local care homes. I asked Sue about the process of starting the group and how it runs.
"Training was provided by The Reader group who started in Liverpool. We had to write a little piece on why we wanted to attend. I was the only front line staff member selected. They recognised the need for schoolchildren at risk of exclusion, drug and alcohol rehab groups, ex-offenders, etc. to have something to feel a part of and it grew from there.
For the people who come, it's the sense of belonging, of being able to speak at their own pace and be listened to. It evokes memories, some of them sad but mostly good times. Amazing how far away from the original subject we can get!
Best thing for me is watching people who are normally withdrawn or unsure opening up and putting their opinions forward, good or bad, and listening to their memories of life. I have had people cry but they always say it's a good cry. On one occasion I had a group of teaching assistants. The piece I read so polarised the group as to what freedoms and restrictions should be placed on today's children – as opposed to those of the 1950s – that I had to step in and stop the discussion before the gloves came off! It can be a very powerful, challenging medium but it is fun and so rewarding."
The Reader is building a national movement of volunteers so that everyone, no matter who or where they are, can find a group nearby. If you want to know more about Shared Reading or would like to become a Reader Volunteer, get in touch.
Comics club in Armley
Matt Stoppard is an Assistant Communities Librarian, and has worked for Leeds Library Service since 2014. He runs a Comics Club at Armley library.
"Comics Club is in its third year. There hadn't been any long-running children's clubs at Armley Library before it was introduced. As well as Comics Club, Armley Library has a Chatterbooks group and a Games Club, both of which began the same time as Comics Club.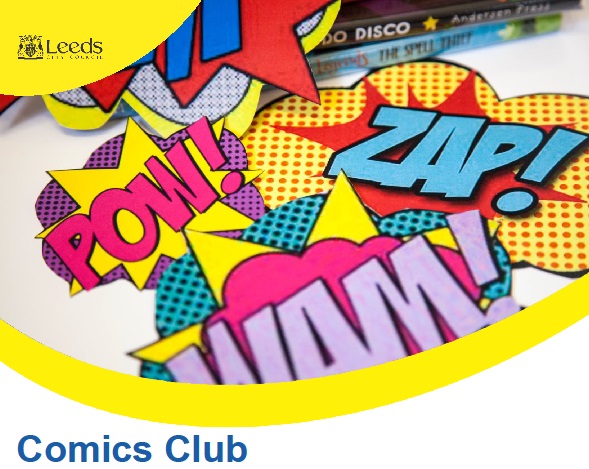 I think the group really enjoys discovering new titles; one member hadn't heard of The Phoenix before joining the group, but now he devours editions of Bunny vs Monkey, Corpse Talk, Mega RoboBros... you name it! There have been some members who didn't know you could borrow Graphic Books from the library, and, again, that has changed their reading habits. So I hope the best thing for them has been finding vibrant and wonderful worlds in books they didn't know existed.
I love the storytelling element in comics and illustration. Everything is so economical; just a few words or a type of shading or a style of eyebrow can convey so much. I have learned a lot from preparing and delivering the sessions, so I have developed alongside the group. We've had guest artists join us, too, such as Jim Medway, and these have been invaluable experiences in terms of learning about the storytelling in comics.
We have links with Thought Bubble festival, which has sent us free copies of comics, and Jim Medway's visit was connected to the festival as well. The group also reviews the shortlisted books for the British Comic Awards, which is connected to Thought Bubble, too."
Multi-lingual storytime in Compton
Kat Newton is an Assistant Communities Librarian at Compton Library and Chapeltown Library. She started as a library assistant in 2010, before beginning her current role in 2015. She ran a successful multi-lingual storytime at Compton Library, and talks about it here.
"The aim of the multi-lingual storytime was to promote our dual language children's books and create an inclusive storytime which represented the diverse languages spoken by the customers of The Compton Centre.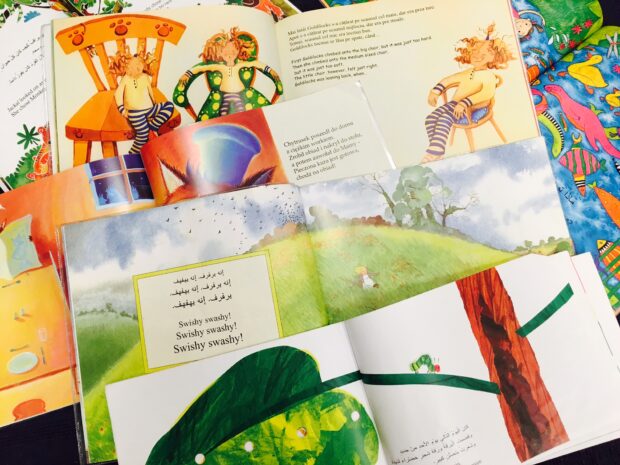 A call out for volunteers (both on social media and locally) generated a lot of interest and we had a wide range of languages represented. We were particularly impressed with students from Lawnswood High School who read 'Farmer Duck' in English and Romanian, and 'The Tiger Who Came to Tea' in English and Tigrinya (this student had translated the story herself!). Families who attended the storytime enjoyed hearing the different languages, and we had requests for further storytimes in other languages."
As for me…
Last summer I ran a flash fiction writing competition for Leeds City Council staff, which I will be running again soon. I was inspired to put this on by my work as a Learning Rep for Unite the Union, who kindly sponsored the competition.
Flash fiction is basically a one-page story, which challenges your English skills through editing and economical language. The goal of the competition was to encourage creativity, inspire learning, and celebrate the love of reading and writing. I was delighted to receive over sixty submissions of stories from many genres that were hilarious, thought-provoking, honest, heartbreaking and inventive.
I would encourage anyone to hold a writing competition, whether it's for flash fiction, short stories or longer; it's a bit of work, but so rewarding when you read the entries and see how much effort people have put into their submissions. If anyone wishes to put on a similar competition and wants any advice feel free to email me at liam.garnett@leeds.gov.uk.
To find out more about activities run by Leeds libraries, follow them on twitter.
------------------------------------------------------------------
Please note, this is a guest blog. Views expressed here do not necessarily represent the views of DCMS or the Libraries Taskforce