[Editor's note: Rachel Heydecker from Carnegie UK Trust introduces the new group of Carnegie Library Lab partners, and their projects]
In June, our Carnegie Library Lab Partners came together for their first meeting as a cohort at Manchester Central Library. As part of Carnegie Library Lab, the Partners receive funding for an innovative project in their library service, as well as access to a mentor and bespoke online learning materials focussing on personal and professional development. In this blog post, the Partners give an overview of their projects and reflect on their time in Manchester.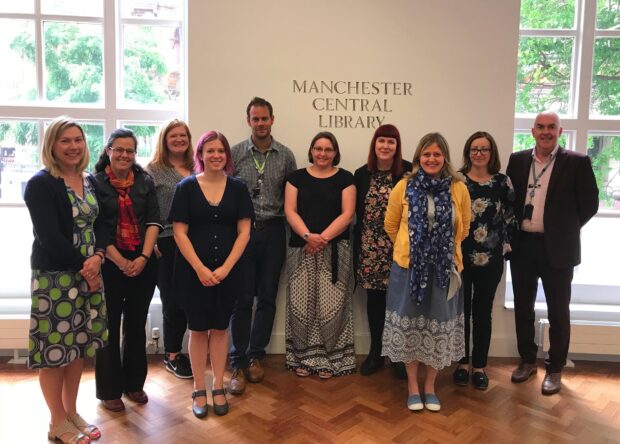 Kate Smyth, Oldham Libraries
Numeracy is an essential skill and a building block for reasoning and logical thinking. Data indicates that a significant number of children in Oldham are entering primary school with underdeveloped 'number' skills. Extra support is needed for parents and carers in this area to help their children access educational, cultural and social activities.
My project, 'Count and Code', will consist of weekly sessions aimed at children aged 3 – 6 and their parents and carers. They will focus on numeracy through activities that encourage counting, matching, measuring and sequencing.
Children and parents will take part in coding with toys followed by a Story and Rhyme session with counting songs and books. Sessions will be informal and relaxed, with a focus on number play. Library staff will be trained and will encourage parents and carers to use heuristic [practical, or hands on] resources, LEGO for maths, and online resources as well as being introduced to counting activities and rhymes to use at home. I am thrilled to be chosen as a Library Lab partner and it's great to know that Carnegie have confidence in my ability to develop and deliver a project from scratch.
I found the first Library Lab meeting in Manchester really rewarding. Central Library is an amazing place and has changed a lot since I did my university placement there 20 years ago. It holds a special place in my heart so it was like the Mothership calling me home! The 2 days of meetings included a lot of self-reflection, planning and the opportunity to meet other library Lab Partners and the team of mentors.
It was fantastic to meet my mentor Sue Ball, Stock, Services & Activities Manager at Staffordshire and Chair of ASCEL. I've not been mentored before and we got straight down to discussing the details of my project. It was so useful to share ideas with someone from a different library service, especially one who has such a wealth of experience. I had a few questions about the direction of my project and Sue was brilliant at listening, pointed me to some resources and gave some good practical advice.
Nichola Farr, Powys Libraries
Exploring potential sources of income is increasingly important for public libraries. I am keen to generate an additional income stream for the library service, and hopefully pave the way for the development of a retail offer. My project, #MyBooks, is based on Oxfam Unwrapped, Oxfam's incentivised gifts that encourage people to donate to the charity through the purchase of greetings cards, which convey in fun and innovative ways how the donation will be spent. My plan is for Powys Libraries to produce a series of bespoke greetings cards and merchandise, all with a library theme.
The prospect of meeting everyone at Manchester Central Library for our first Library Lab meeting was daunting, but Rachel and Tom from Carnegie put us all at ease. The venue was pretty inspiring, as was the two-day meeting, and the discussions we had have given me food for thought – I'm starting to think about my project in a slightly different way, and trying to focus more on the 'why' of my idea, not just the outcomes. Meeting my mentor, Neil MacInnes, was exciting! As Strategic Lead for Libraries, Culture and Arts for Manchester City Council, he's been at the forefront of the Central Library's transformation, and was full of fantastic advice to help me start planning.
Claire Pickering, Wakefield Libraries
Social reading activity can promote wellbeing, combat isolation and bring people together in supportive communities. My Library Lab project seeks to address these issues by bringing prose-and poetry-fuelled discussion to communities who would not normally engage with reader groups of a traditional nature.
The project, 'Unhampered Reads', combines a reader group and reminiscence kit, using hampers filled with poetry and prose, objects and other multisensory stimuli to encourage conversation, reminiscence and also creative compositions such as writing and poetry. In developing a training package for library and partner staff and volunteers, I hope to give them the skills to deliver this programme as a series of co-created community events in a range of very different settings using the 15 themed 'unhampered reads' picnic baskets I have previously created.
Emma Hubbard, Bexley Libraries
Library buildings are a tremendous asset in town centres but are currently not being utilised at night. My Library Lab project, 'Libraries at night,' aims to deliver an innovative cultural programme that animates library buildings at times they would normally be closed to the public. The underlying aim is that the programme of events will be used as a testing ground to implement different operational and financial models, with the aim of developing a business case for a longer term approach to utilising libraries as evening venues with curated programming. This will also help the library service determine the possibility of gaining income from the use of our library buildings while increasing the borough's cultural offering.
At the first partner meeting in Manchester I met my mentor Owen Hutchings, Senior Arts in Libraries Officer for St Helens Council. Owen has a vast experience of using libraries as venues as he is leading on the Arts in Libraries initiative. He explained how St Helens have increased their cultural offering and made their events a success, giving me a different way to approach our programming. I'm looking forward to drawing on Owen's experience once we have started to confirm which types of entertainment we are going to host in our libraries.
Maria Reguera, Redbridge Libraries
Fast moving technology is transforming the way we live and earn our living. According to a report by NESTA, the UK will need 1 million new creative jobs by 2030 to avoid leaving millions of people out of work. To continue being competitive we need to nurture our younger generations to be technically knowledgeable, curious and innovative around automation. Meanwhile, recycling technological components and being environmentally friendly will become increasingly important, as well as helping to debunk the notion that experimenting with robotics is expensive.
My Library Lab project, 'Reuse, Recycle…ROBOTS!', seeks to combine these two concerns, inspiring children to become the engineers of the future and motivate them to be more environmentally friendly. Children and families will experiment with affordable electronics to build and program their own designed robots using recycled materials.
Participating in the Library Lab programme is a huge opportunity and will help me to be more relevant in my current role. The first thing I have learnt is to think thoroughly about the value of libraries, the purpose of a job that I love and the aim of my project for Carnegie Library Lab. I haven't got all the answers yet but I am looking forward to working with my mentor and the other partners to distil why libraries and our jobs are now more crucial than ever.
You can keep up to date with the progress of our Library Lab Partners through the Carnegie UK Trust website.
-----------------------------------------------------------------
Please note, this is a guest blog. Views expressed here do not necessarily represent the views of DCMS or the Libraries Taskforce