This is the fourth of our blog posts from the Making an Impact workshops we ran in August. Sue Crowley (Strategic Manager, Library Services) talked about Somerset's Libraries Redesign programme.
Background
Somerset libraries is an internally commissioned service which reports to the council against 6 outcomes. This has enabled more informed conversations around libraries in Somerset.
In 2017 Somerset libraries started a redesign programme. Its aims were to:
maintain a thriving and dynamic library service
reshape the libraries physical network
put the service onto a sustainable footing
have a greater understanding of need, demand, access and value for money per library catchment
To do this Somerset needed to collect and collate a lot of data. It started by agreeing the approach which was to:
define catchments for each library (the existing network of libraries was at least 40 years old)
analyse, assess and rank, each library against:

need within the catchment, using mapping statistical data (including factors such as social isolation/digital exclusion)
usage of the library, using library specific data

identify where overlap between catchment areas was significant
Defining catchments
National and local datasets were used to define the catchment areas. Somerset initially based the catchments on Output Areas (OAs) which are used in the UK census and represent a geographical grouping of approximately 300 people. Every OA was mapped to at least one library. Lower super Output Areas can be used to assess the extent of pockets of deprivation. A Lower layer Super Output Areas (LSOA) is an aggregation of OAs over a larger area. In urban areas the OAs are small, and in more rural areas they are larger as the population density is lower.
As people do not always use the library closest to where they live, Somerset looked more broadly at usage: borrowing, People's Network and wifi usage, event participation, footfall and library opening hours. Usage that doesn't require a membership card is difficult to map. This was (partially) addressed by a customer satisfaction survey. From this work Somerset were able to show where catchments overlapped, or (conversely) areas where very few people were using the library.
Assessing need
Somerset's methodology for assessing need was to:
develop a set of need criteria
map the average level of need for each catchment
understand 'pockets' of need within catchments - averages can mask a lot of variation for larger libraries
combine this statistical information with 'softer' feedback gained through community engagement and consultation
assess the relative need for different library services in different areas
Analysing how the library network is currently being used
To analyse the usage of its library network Somerset:
developed a set of usage measures, based on the services offered
mapped usage under different measures, using membership postcode data
considered the relative levels of different types of usage in different areas
analysed relative levels of overall usage to compare and rank different libraries
However, as the process developed some of these initial considerations changed and in the end, Somerset resisted using weighting criteria to rank libraries. The order is determined by different factors - so for example, a library that may be lower on need, serve a relatively small population, but has significant access issues could find itself to be a higher priority, as access is an important factor in determining our comprehensive service.
Access to the library network
Somerset ranked libraries based on need and usage to identify 'priority' libraries, and libraries that were more 'at risk' of having funding reduced. For each 'at risk' library, they assessed how easy it was for communities using that library to access their nearest alternative 'priority' library. All 'at risk' library catchments were scored and ranked for access to alternatives, considering driving time and public transport links. Those that did not have reasonable alternative access could then be re-prioritised. This was an iterative process.
Non-statistical factors
Somerset also needed to consider local, non-statistical factors. Initially the following factors were identified:
Cost / value for money factors:
unit costs of operation (eg cost per visitor / active borrower)
building condition, suitability and location
partner contributions / shared use of library building
Other factors:
availability of other facilities that support communities / service delivery
projected housing growth in catchment
community / Friends group contribution
feedback from engagement and consultation
However, again this was modified as Somerset took the view that the county council had a responsibility to provide library services appropriately, regardless of whether the building could be shared, or its physical condition. A lot of data was collated into sizeable spreadsheets which detailed the various levels of need across the county. Other 'softer' information became increasingly important as the team gained insights into local factors through the public consultation exercise. More information on the data and methodology used can be found on the Somerset library service website.
The analysis shaped a series of proposals for libraries across the county.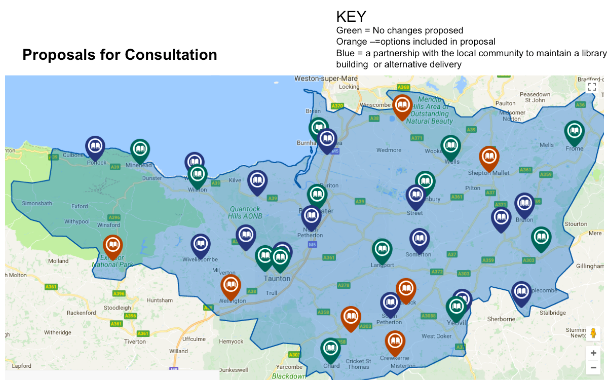 Somerset have also published the data as an interactive Libraries Catchment Mapping tool on their website which will be maintained and updated annually. It allows people to view the data collected for each catchment area and individual output area.
Progress to date
Somerset started the work in October 2017 and published consultation proposals in January 2018. While the process for gathering the data was quick, what took time was thinking through the approach and defining what would be included. The mapping tool was part of an iterative approach to assessing local needs, which has been undertaken over the past year as part of the Library Service Redesign Programme.
In the autumn of 2017, the project team carried out an extensive community engagement exercise to understand local perspectives on the need for a library service. During this time initial approaches to the statistical analysis of needs were explored and discussed with the Friends of Somerset Libraries, a major stakeholder group, and with internal data analysis experts within the county council. Later in the autumn the county council carried out a high-level needs assessment for the service as a whole, which was used to set a Vision, Strategic Direction and Outcomes Framework for the library service in November 2017.
The data used is also being informed by feedback gathered through the public consultation exercise resulting in some revisions of the methodology and datasets leading to a deeper level of understanding that will influence final recommendations. Somerset libraries will be publishing the outcomes of the consultation and recommendations in October 2018.
Using and sharing data
Somerset see the catchment mapping exercise as much more than a tool to support decisions about network re-design. The data sourcing and mapping techniques used make it relatively easy and inexpensive to refresh the data year on year, providing an up to date resource for the service. Somerset will be inviting local and senior managers to use this powerful evidence locally, to ensure that the services and activities provided inside and outside libraries are well-matched to local needs, and to ensure that the service is promoted effectively to those who need it most.
Somerset also benefits from its membership of LibrariesWest through which a rich level of data is available, not only evidencing the benefits of a collaborative approach but also providing a collective view of the benefits of library membership.
A number of datasets from its Library Management System have been published and these are freely available for anyone to download and use.
One of the latest reports shows which books across the consortium are kept by borrowers the longest. Titles related to wellbeing and computing hit the top 10 list. The list can be viewed on the LibrariesWest github site.
LibrariesWest partners are only just beginning to appreciate some of the possibilities of using Open Data to evidence value and help shape services longer term. But now this has started, the consortium has every intention of taking full advantage.
You can download the full set of slides of Sue's presentation.
To read all the posts relating to this workshop, search: #LibrariesImpactMeasurement.