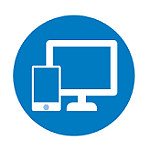 [Editor's note: For Libraries Week I challenged colleagues from around the public library sector to write a short post which illustrated how their work was delivering against the 7 outcomes listed in Libraries Deliver. The first one is from Leeds Libraries, as Jason Tutin describes what they are doing to meet the outcome: improved digital access and literacy]
In its report Libraries Deliver: Ambition for Public Libraries in England 2016 to 2021 the Libraries Taskforce challenged central and local government to adopt a 'libraries first' approach when looking at options to deliver information or services to local communities. Leeds City Council is taking that approach in relation to digital inclusion, with the library service leading the city's 100% Digital Leeds programme.
Leeds Library and Information Service has a long track record of delivering digital inclusion activities. We have always been one of many agencies and organisations addressing digital inclusion in various ways across the city. When the council decided to consolidate its efforts, it chose the library service to lead the city's digital inclusion programme. We were asked to build a coherent digital inclusion movement, coordinating and reporting progress across sectors and across the city.
Strategic context
To achieve its vision of 'A compassionate city with a strong economy', Leeds City Council is committed to tackling poverty and reducing inequalities. Increasing digital inclusion is a priority across the council and is referenced in a number of strategic plans, including:
We are also reporting annually to a council Scrutiny Board inquiry which is providing ongoing governance and oversight of the 100% Digital Leeds programme.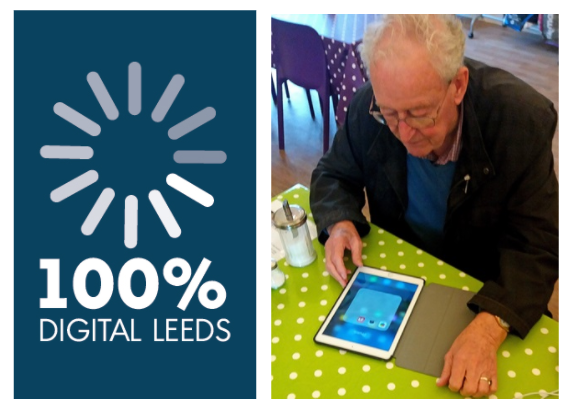 As outlined in our latest update to Scrutiny Board, we've received additional investment so that we can tackle the barriers to digital inclusion thoroughly and effectively, in collaboration with partners across Leeds.
Additional investment
To enable the library service to deliver the 100% Digital Leeds programme, we have received 2 funding allocations totalling over £750,000.
Over £350,000 came from other council budgets and enabled us to:
appoint permanent staff to the library service (3 Digital Inclusion Coordinators and 1 Digital Inclusion Support Officer)
expand our tablet lending scheme to 150 tablets with connectivity, professional services and a managed framework that other organisations can buy into
work with the Good Things Foundation to support our efforts to build a digital inclusion network across Leeds, embed sustainability, and evidence return on investment
£400,000 came from the Leeds City Region Business Rates Pool. This additional funding will enable us to:
double the size of our tablet lending scheme to 300 tablets
introduce a grants programme to help organisations in the city remove barriers to digital inclusion for their staff and customers
install free wifi in 20 community buildings
Investment on this scale demonstrates the council's commitment to tackling digital exclusion. It also demonstrates confidence in the library service's ability to deliver this high-profile programme.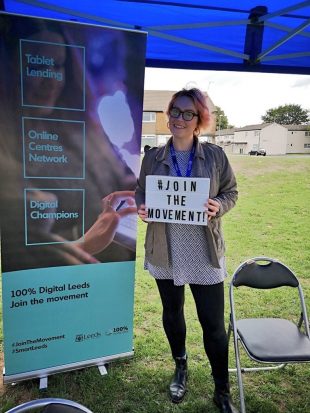 Our approach
We are working to address the 3 main barriers to digital inclusion:
Skills: The struggle to gain new skills and build confidence
Motivation: Difficulty understanding the benefits of being online
Access: The prohibitive cost of equipment and connectivity
The actions we are taking include:
Skills: build the Online Centres Network across the city
Build the network: inform, enthuse and recruit community organisations across Leeds to the Online Centres network
Make the most of Learn My Way: ensure that all Leeds public libraries are active Online Centres, using the Learn My Way eLearning platform as their default digital skills training tool and supplementing this self-directed learning with 20 Learn My Way drop-in sessions per week in libraries across the city
Engage organisations: plan and deliver high-profile events to raise awareness with local organisations, find out more about local community barriers and unite local organisations with a sense of shared purpose to form a lasting support network working towards digital inclusion.
Motivation: recruit Digital Champions and promote the benefits of digital inclusion
Recruit: inform, enthuse and recruit Digital Champions to support digital inclusion activities and advocate for the benefits of digital inclusion
Train: train Digital Champions to understand the individual motivations towards and barriers against digital inclusion
Connect: identify corporate volunteers and signpost them to opportunities within the community
Market: Target marketing to promote the benefits of digital inclusion to organisations and individuals
Access: support organisations to get connected
Tablet lending: roll out tablet lending scheme, lending iPads to organisations who are working with the most digitally excluded and those for whom it will have the most impact
Connect community buildings: install free wifi in 20 community buildings
Tower block switch-on: support wifi switch-on with Digital Inclusion Coordinators attending tower blocks and meeting area Housing teams, to be 'on the ground' supporting tower blocks going live. Work with organisations to support tenants to make best use of connectivity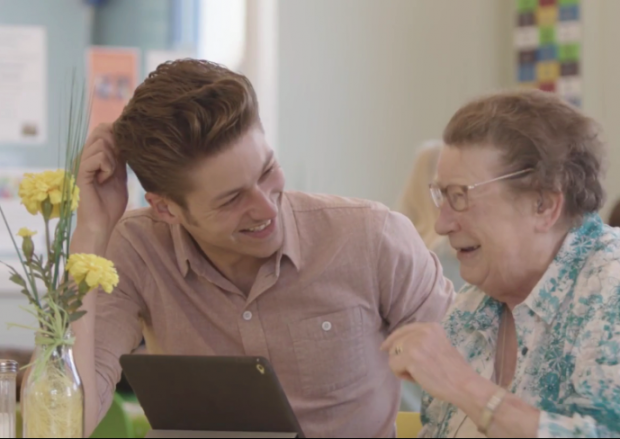 Measuring success
We need to fully evidence the return on investment into our digital inclusion programme so we are recording the impact on individuals, their families, local communities and the wider city and economy. We are also building capacity in local organisations and working with partners across the city to help them tackle digital inclusion in their communities. We will report these case studies on our digital inclusion blog.
We should be able to model savings and the potential additional economic benefits of digital inclusion for citizens, including cost/time savings, gains in earnings and employment, and savings to the NHS from increased health and wellbeing. We are working closely with Good Things Foundation on this. Their recent report The economic impact of Digital Inclusion in the UK highlighted the benefits of getting 100% of the UK thriving in a digital world by 2028.
Conclusion
We are now working more closely at a strategic level with colleagues across the council: attending Housing Leadership Team meetings and Board meetings; discussing the benefits of digital inclusion with Adults and Health teams in the council; supporting the Universal Credit Implementation Group; and reporting to Smart Cities Portfolio Board and Scrutiny Board. We're working with new partners and community organisations at a local level across Leeds. We're also working with West Yorkshire Combined Authority to support their digital inclusion work at a regional level.
As well as benefiting individuals and communities by increasing digital inclusion across Leeds, our role leading the city's 100% Digital Leeds programme has brought new opportunities for Leeds Libraries. We will maximise those opportunities to show that, with investment and strategic support, Libraries Deliver.
---------------------------------------------------------
Please note, this is a guest blog. Views expressed here do not necessarily represent the views of DCMS or the Libraries Taskforce