[Editor's note: guest post written by Tim Bidey, consultant, Traverse, who were commissioned to undertake an independent evaluation of the LOFE fund in November 2017. All links are at the end of this piece]
The Libraries: Opportunities for Everyone innovation fund (LOFE) was launched in December 2016 alongside the Libraries Deliver: Ambition for Public Libraries in England 2016-21 strategy document, which set out plans to reinvigorate public library services in England.
Its primary aim was to enable local authority library services to trial innovative projects that would benefit disadvantaged people and places in England. Managed by the Arts Council, the £3.9 million fund awarded grants of between £50,000 and £250,000 to 30 projects across 46 library services in March 2017.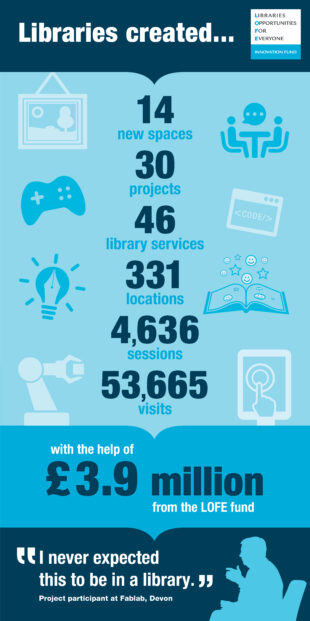 Traverse was selected by the Department for Digital, Culture, Media and Sport (DCMS) to undertake an independent evaluation of the LOFE fund in November 2017. The evaluation investigated what activities were undertaken by projects and whether these made a difference to participants, libraries and local communities. It also sought to generate learning from both the approaches taken by projects and the support that was provided by DCMS, the Arts Council and Traverse.
What did we find?
The open brief behind the LOFE funding enabled library services to try new activities without fear of failure. Across all projects, funding was felt to have provided the opportunity to invest in high value equipment and resources, support staff through training, and market their libraries to local communities.
Participation in the LOFE fund was felt to have enabled many library services to embed digital or more inclusive practices within their wider service offer. Through the fund, they:
developed spaces and schemes within libraries that provided access to a range of technologies and training, such as digital photography, coding, animation, robotics, and iPad loan schemes.
worked with partners to improve the digital confidence and skills of library staff and volunteers, thereby strengthening their offer to communities
worked with partners to improve library staff and volunteers' understanding of how best to support people with special educational needs and learning disabilities, including disability awareness reading approaches such as Books Beyond Words. For example, Cultural Community Solutions partnered with Books Beyond Words and trained library staff in how to deliver visual reading group sessions to people with learning disabilities.
Library services built upon this to provide library users and communities with opportunities to reduce disadvantage. They did this by:
working alongside local community groups to consult, engage, or work with vulnerable and marginalized individuals to co-design and co-produce activities. For example, Luton Cultural Services Trust worked alongside a local artist to help year 8 students co-produce a new adolescent space featuring artwork that related to them and their peers.
building local people's awareness of the opportunities that library services, digital tools and reading or other activities can provide
supporting participation in new activities that helped individuals to develop skills and confidence. For example, the Storysmash project in Nottingham gave young people with low literacy skills aged 8-25 a chance to create their own video games, following which participants reported perceived increases in digital and creative skills.
At an individual level, evidence suggested that some participants experienced early improvements in literacy and digital skills as a result of these activities, as well as anecdotal examples of improvements in mental and general wellbeing including reduced social isolation, improved relationships and improved access to employment opportunities.
At a service level, libraries reported increased visitor and membership numbers as well as borrowing rates. Some library services reported improvements in morale as a result of training staff in – and giving them ownership over – the development of new activities. Across projects, the dedication and support of management, frontline and volunteer staff was also felt to have been instrumental to project success.
And at a community level, LOFE-fund activities were also reported to have challenged and improved people's perceptions of what their local library could offer and achieve. In some cases, library services said this had improved their relationships with other council services or local organisations.
Over the course of our work on the evaluation, we also learned more about how best to support organisations in self-evaluation. This included the importance of embedding an understanding of evaluation from the start to help recipients reflect on their aims and activities.
In particular, library staff enjoyed coming together to engage in the theory of change exercises. These helped them to think about the steps that they would need to take to achieve their goals, plan for risks along the way, and connect their projects to wider strategies or initiatives. We also heard from library staff about how beneficial they found coming together to share and learn from each other's experiences.
What's in the report?
Beyond exploring the perceived differences that the projects made to individuals experiencing disadvantage, library services and their staff and their local communities (chapter 2), the report also provides a range of insights into the design and delivery of innovative activities in libraries. It contains recommendations to improve delivery and performance, which are of practical use to several audiences:
Funders - who can find recommendations at the end of the executive summary on how best to support libraries in reaching out and delivering services to benefit individuals and communities experiencing disadvantage.
Library staff and volunteers - who can find out more about what worked well in the design and delivery of innovative activities (chapter 3), in addition to potential challenges and how best to overcome them (chapter 4).
Grant selection panels and administrators - who can find recommended approaches to achieving six of the most common outcomes targeted by projects within the fund (chapter 5), as well as learning on how best to provide programme support (chapter 6).
Where can you find the report?
How can you find out more?
If you have questions about the evaluation please contact: tim.bidey@traverse.ltd or telephone 07702 515 710. Find out more about Traverse and our work on our website.
[This blog post is a very short overview. The full report, containing all Traverse's findings and recommendations can be read via the links above. The Taskforce has published a blog on the celebration event for the projects.]
----------------------------------------------------------------------
Please note, this is a guest blog. Views expressed here do not necessarily represent the views of DCMS or the Libraries Taskforce