The Libraries Taskforce is running a series of workshops on evaluations for library staff. Facilitated by The Audience Agency, a national audience development consultancy and independent not-for-profit organisation, these workshops will support you in building an understanding of:
what evaluation is (and what it isn't!)
why evaluation is important
how it can help you achieve your aims
how to do it effectively
What will the workshops cover?
Through presentation of good practice and case studies, discussions and shared learning, and creative task-based exercises, the workshops will address the challenges and explore the benefits of embedding evaluation in the work of libraries, including strategic planning and project delivery.
Topics will include:
What is evaluation?
Why should you do it?
How do you choose what to evaluate?
What tools can you use?
How can an evaluation framework help you?
How to develop an effective evaluation plan
After the workshop, you will have a set of resources to take away to support the ongoing development and delivery of effective evaluation in your organisation and/or project team.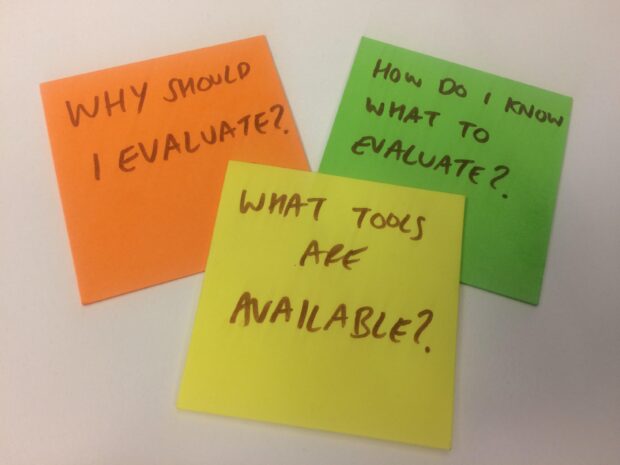 Booking details
The 4 workshops will be on:
14 March - Storyhouse, Chester (Garrett Studio)
18 March - Exeter Library (Rougemont Room)
22 March - Newcastle City Library (Bewick Hall)
27 March - Idea Store Whitechapel, London (Conference Room)
These workshops are funded by the Department for Culture, Media and Sport and Arts Council England and are free for all library staff to attend.
All events will run from 10.00-16.00 (with a start time of 10.30 to allow for registration and for everyone to get a coffee and network beforehand). Lunch and refreshments will also be provided - when booking your place on eventbrite please make sure to include any dietary requirements.
Who should attend?
These sessions are aimed at library staff at all levels who want to increase their understanding and learn new methods for conducting evaluations. This includes libraries which are council-run, commissioned or community managed.
If you're interested in attending the workshops, please register via the Eventbrite pages. If you have any further queries about the events, please email librariestaskforce@culture.gov.uk.

Update: the resource pack from these workshops is available online.