Manchester Central Library is the setting for Library Data Camp 2019, a free day dedicated to exploring data and open data in libraries on Monday 11 March.
What happened last year
In our first Voyage of the Data Treader event, we had discussions on a wide range of topics, sharing data experiences, such as:
Open Data 101
publish your first dataset
extracting data and automation
social media surgery
Open Data and social value
Providing library staff with learning opportunities has always been a major goal, so last year we invited Owen Stephens to provide training on using the Open Refine software tool for cleaning and manipulating messy data (particularly good for library catalogues).
What will we focus on this year?
This year we've been inspired by the Libraries in Wales data project. In 2018 Kathryn Parry led an initiative to create a map of all the libraries in Wales. She worked with the National Library of Wales Wikimedian in residence Jason Evans to compile this data and load it into Wikidata.
Wikidata currently holds the details of over 3,000 UK public libraries, and we've invited Jason to show you (and us) how to edit and add to these, and use visualisation tools to put your library on the map! Data on libraries will always exist in Wikidata, and will be available to the public. Library staff need the skills and confidence to edit this data, correct it, and take advantage of it by adding to it. Whether you have photos of your library that you wish to share, or just want to update an address or description, this is all possible using Wikidata.
We'd love it if everyone was able to get involved in making an edit to Wikidata, even those not attending. We know there are loads of people who are enthusiastic about libraries, and who would love to update a central data repository that held data about their local libraries. The main thing is to get started!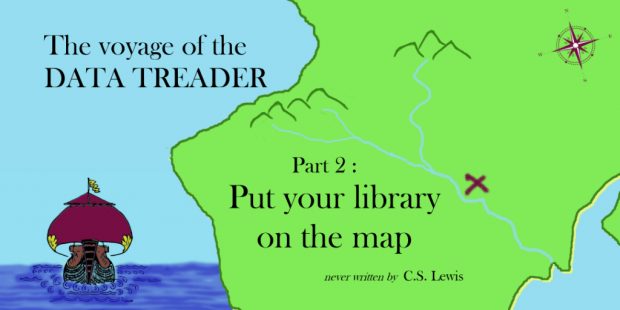 Library Data camp is open to anyone. You don't need to be a data expert, you don't even need to know much about data. But more importantly, you do need to be keen to use library data to improve library services.
Book your place on eventbrite, and follow the conversation on Twitter at #DataTreaders.
We're all Data Treaders; Aude Charillon (Newcastle Libraries) and Dave Rowe are also involved in organising this alongside me. We are grateful to Manchester Libraries for hosting this event at Manchester Central Library and to UKGovCamp and the Libraries Taskforce for sponsoring.