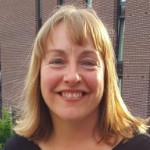 Kathryn Boothroyd
Kathryn is the Library Service Manager for St Helens Libraries with strategic responsibility for the management and delivery of Libraries, Archives and the Schools Library Service. She has many years experience of managing and delivering large projects, partnership working and performance management and is skilled in leading, managing and motivating large groups of staff. Her specialism is developing services for children and young people, ensuring they are included and involved in Library Service delivery. Kathryn is very proud to have developed the groundbreaking BLUSH project alongside Speech and Language specialist Julie Hoodless. Follow Kathryn on Twitter @kathboothroyd to find out more about her work and her life outside of work singing with the Royal Liverpool Philharmonic Choir!
Kathryn Boothroyd writes about the NPO programme planned in St Helens libraries
A Speech and Language Therapy Service and a Schools Library Service working together in St Helens.
Related content and links
About this blog
The DCMS Libraries team supports ministers, as they oversee and promote the improvement of local government's provision of public library services in England. It is also responsible for other library policy such as DCMS sponsorship of the British Library and Public Lending Right Scheme. On this blog, members of the team talk about their work. Find out more