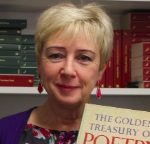 Sue Wilkinson MBE
Sue is Chief Executive of The Reading Agency, the leading charity inspiring people of all ages and backgrounds to tackle life's big challenges through the proven power of reading.
She is responsible for developing The Reading Agency's policy and strategy, and overseeing the delivery of their programmes in partnership with a wide range of organisations including publishers and public libraries.
Sue read history at Cambridge and has worked in the public sector for most of her career. She is trained as a teacher and a museum educator; most recently she was Director of Policy and Research at the Museums, Libraries and Archives Council and Director of Government and Academic Liaison at Elsevier.
Contact Sue via email ( sue.wilkinson@readingagency.org.uk) or follow her on Twitter (@sue_wilkinson1)
The Reading Agency's Sue Wilkinson reminds us how libraries play a vital role in encouraging children to read