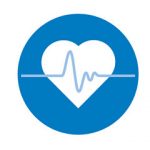 [Editor's note: Guest post written by Susan Hopkins from Public Health England (PHE). PHE is a member of the Libraries Taskforce (as is NHS England). It supports closer working between health and libraries, based on the important role libraries play in helping individuals and communities manage their own health and wellbeing]
I am writing to ask for the support of public libraries across England in the campaign Keep Antibiotics Working - which is aimed at raising public awareness and understanding of the dangers of antibiotic resistance.
Why is this important?
Taking antibiotics encourages harmful bacteria that live inside you to become resistant. That means that antibiotics may not work when you really need them. Furthermore, if you take antibiotics, you are more likely to get an antibiotic resistant infection. This risk is even greater for children who have taken antibiotics.
It is estimated that at least 5,000 deaths are caused every year in England because antibiotics no longer work for some infections, and this figure is set to rise with experts predicting that, in just over 30 years, antibiotic resistance will kill more people than cancer and diabetes combined. Antibiotics help ward off infections during chemotherapy, caesarean sections and other surgery. They also treat serious bacterial infections, such as pneumonia, meningitis and sepsis, but they are being used for everyday viral infections, such as colds or flu, where they are not effective.

Antibiotic resistance is a very real threat. If we have no suitable antibiotics to treat infection, minor surgery and routine operations will become high risk procedures. The O'Neill Independent Review on Antimicrobial Resistance (AMR) final report, Tackling Drug Resistant Infections Globally (May 2016), recommended a "massive global public awareness campaign" to tackle low public understanding and reduce inappropriate demands for antibiotics.
New national campaign
Public Health England (PHE) is driving this work forward by launching the new campaign, Keep Antibiotics Working, as part of the action against antibiotic resistance at national level, and to support the Government ambition to halve inappropriate prescribing of antibiotics by 2020.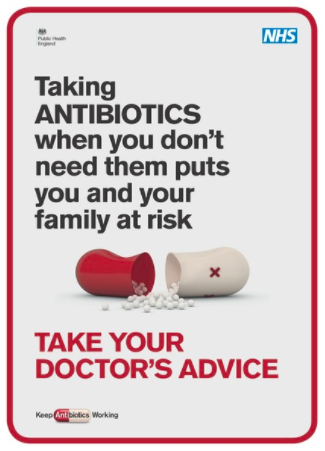 On Monday 23 October, PHE launched their national campaign, highlighting that taking antibiotics when you don't need them puts you and your family at risk of more severe or longer illness. The aim of the campaign is to increase awareness of the risks of taking antibiotics when you don't need them, in turn supporting the efforts of local doctors, nurses and other healthcare practitioners in reducing inappropriate prescribing due to patient pressure.
We are calling for the public to play their part in tackling the antibiotic resistance epidemic by trusting their doctor or nurse's advice as to when they need antibiotics and if they are prescribed, taking antibiotics as directed and never saving them for later use or sharing with others.
What you can do
The campaign is supported with advertising, partnerships with local pharmacies and GP surgeries, PR and social media activity. For further information on antibiotic resistance, search 'NHS antibiotics'. To support the campaign in your library, you can order resources free of charge from the PHE Campaign Resource Centre.
----------------------------------------
Please note, this is a guest blog. Views expressed here do not necessarily represent the views of DCMS or the Libraries Taskforce