[Editor's note: Post written by Dionne Hood, Development Officer - Reading and Stock, Bradford libraries, who was recently awarded Librarian of the Year. I asked her to tell us more about her job]
It was a really pleasant and unexpected surprise to be given the PPC librarian of the year award. A member of staff reminded me 'but you're not a librarian!' and, yes, this is true – and like many of us who work in public libraries, I don't even have 'librarian' in my job title and have no library qualifications. I came into libraries after having being made redundant from lecturing in Art and Design. But I soon realised that I loved working in libraries and I relished the possibilities and challenges of working in a new sector. I also realised that coming from an arts and education background and being a 'creative' has its advantages when dealing with the many changes and different ways of working expected from today's library service.
Bradford
Bradford is the home of contrast in its literary heritage – The Brontes were from just outside the City and Andrea Dunbar, writer of Rita Sue and Bob Too came from a council estate within the city – it is this heritage that inspired me to start a creative writing program in Bradford Libraries.
It was important to me that not only should people have access to literature in all its forms with books on the shelves and author visits and talks (which we do really well), but that we should offer the opportunity to take part, to create, which obviously ties in nicely with the learning and culture national offers.
Creative writing
Our creative writing program has 10 week courses and workshops that take place in our libraries throughout the year in different parts of the district facilitated by authors and poets. I am especially proud of the fact that some of the attendees have gone on to have work published and/or to take part fully in the poetry reading circuit.
Our writing for well being course has seen people go into further education, with one attendee starting an MSc in writing for therapeutic purposes. We also work with outside agencies, publishers and authors to provide writing and creative opportunities – last year, we worked with New Writing North and Significant Ink who aim to find and develop brand new voices currently under-represented in UK screenwriting - BAME writers, LGBT+ writers, disabled writers and writers from a low socio-economic background.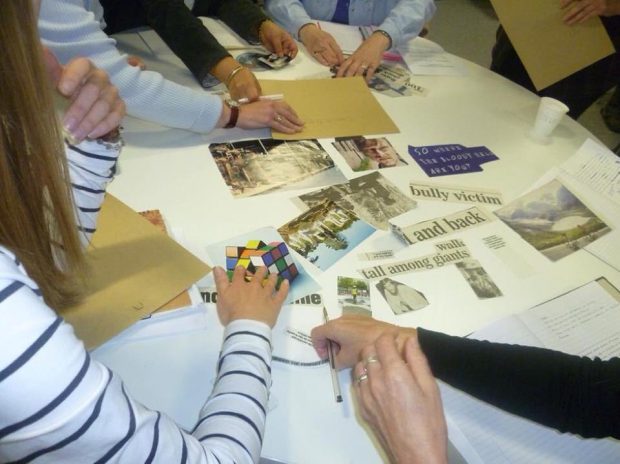 Working in such a culturally diverse and interesting city has often provided the chance to experiment and try new things. Last year, we combined life drawing and life writing from a model in partnership with Bradford Museums. My personal interest is the relationship between art and literature – the workings of the artist and writer. I have facilitated an exhibition that toured our libraries, where artists were invited to make postcard sized responses to Wuthering Heights.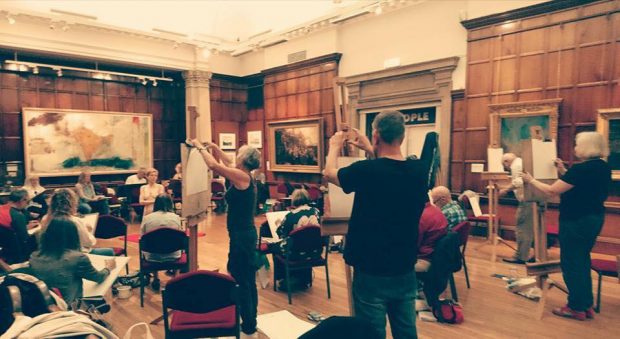 Poetry
Last year, we invited artists to respond to poems that they were given at random, then we displayed the artworks and had a poetry workshop responding to the artwork. For National Poetry Day, in partnership with Bradford City of Film, we made short films of local poets – some published, many not. We had poems in Urdu, Farsi and Yorkshire dialect!

You can see our films online. We have also offered mindful making, music events and craft and art workshops.
Book groups
As well as the creative writing and cultural activities, I am the main contact for our 102 book groups and I am responsible for starting new groups across the district. Most are general groups in homes, schools, churches, pubs and libraries, but I also work with charities that deal with homelessness and addiction. I work closely with ESOL (English for speakers of other languages) and adult literacy programmes, supporting various groups across the district. Oh and I also find time to do some 'proper' library stuff – I buy the adult fiction and oversee stock management.
I probably don't do a great deal different from many hardworking 'librarians' across the country, and I couldn't do most of what I do without the support of the hard working dedicated Bradford Libraries staff.
So how do you become librarian of the year? My advice would be: stay open minded; don't say no; stay passionate about the vital role libraries play in promoting books and introducing readers and writers to new experiences and new ways of expressing themselves; and always look forwards not back.
Keep up in touch with Dionne by following her on twitter.
---------------------------------------------------
Please note, this is a guest blog. Views expressed here do not necessarily represent the views of DCMS or the Libraries Taskforce