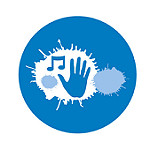 [Editor's note: Stephanie Organ, library assistant for Gloucestershire Library Service, writes about her experience putting together a Fun Palace]
Arriving at the counter of Cheltenham Library one spring Saturday last year, a colleague beamed at me "Let's do a Fun Palace". I had no idea what she was on about. Was she suggesting a new craze I hadn't heard of? Hmmm…she also works as a Science Communicator so was it something along those lines? My eyes darted around looking for hints – I came clean, I hadn't the foggiest idea.
Turns out Fun Palaces is an international campaign, bringing science, art, craft and tech together for one weekend a year, free for everyone and run by the community. If you're reading this blog post you probably already know that libraries are excellent community hubs offering more than books. A Fun Palace fits in well here.
Once I knew more, I enthusiastically agreed to help since it tied in to my love of science and the arts (I do not conform to either side of the Two Cultures debate). My colleague wrote the proposal, we were given the 'nod', and away we went.
Why a Fun Palace in a library?
Coincidentally, I had been to a handful events and venues that year including 'We the Curious', the Georgia O'Keeffe exhibition at the Tate, one of the Science Museum 'Lates', and a smattering of musical and theatrical performances locally. What needed thinking about here was, who these events were aimed at, what worked well and what could be improved, and what elements could be applied to a library Fun Palace.
I have an interest in whether people feel able to engage in STEM and how you can get around those who feel they can't. Now for the slightly geeky bit – stay with me. The ASPIRES report shows that for young people to aspire to study science or even see science as 'for them', Science Capital is important. This can include being exposed to an event or activity which incorporates science. The British Science Association also points out that although we feel able to comment on other aspects of culture such as football or music, when it comes to science we claim not to have the qualifications or skills to participate. But science is part of culture as much as art and music is. Combining it with other activities in a free event such as a Fun Palace helps to provide positive science experiences for those who are not usually able to access these events and those who can.
Most of you will probably be shouting at your screens "Get to the Fun Palace already". I hear you.
Who might come?
Okay, so first we needed to decide who we wanted to attract. Did we want a theme or did we want our first ever Cheltenham Library Fun Palace to be eclectic? We went with 'eclectic' as we wanted people to be enticed by at least one activity and stay for more. We also needed the library to run as usual, not alienating our existing customers. Cue multiple brainstorms.
We had ZERO budget *sobs* so had to rely on people generously donating their time and activities. This was also a plus since research suggests that if a community event is to be successful, the community itself needs to have input.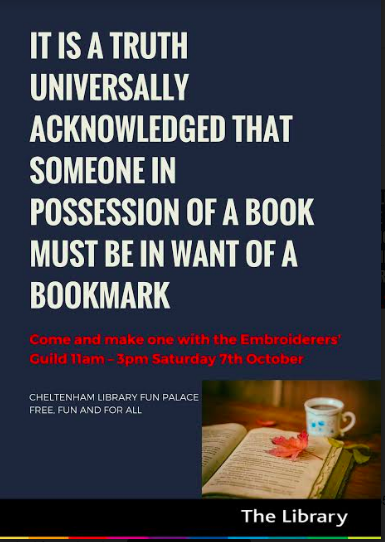 Working with partners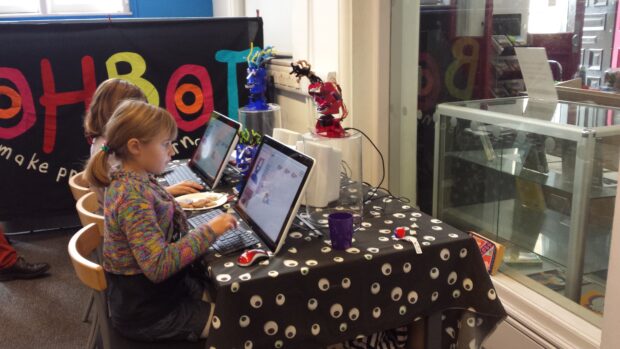 Whilst scoping out the Cheltenham Science Festival earlier that year, we found Oh-Bot, who ran their brilliant robotic head programming activity using scratch code. Adult Education, Gloucestershire ran a beautiful silk painting workshop, and Cuddly Science provided colouring sheets and puppets.
The Embroiderers' Guild, who set up the most amazing exhibition at the entrance to the Adults' Library, provided bookmark embroidery (how appropriate!) and leaf embroidery.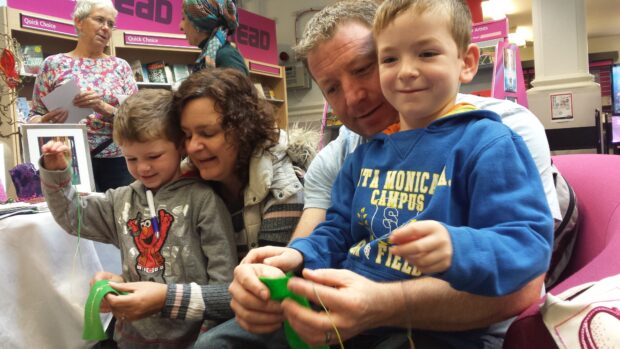 'Simple scimum' blogger, Kate Turton, lent me a pair of spectacles which had been made to simulate the eye condition retinitis pigmentosa. I then created three challenges for wearers of the glasses, including a 'Where's Wally' timed challenge to tie in with the Cheltenham Literature Festival's 'Where's Wally' Trail running on the same day.
Science Communicator Rebekah Hammet, with a background in Science Communication and working at Bristol Zoo, created and ran a biodiversity activity which helped people to visualise what would happen should different groups of living things disappear. Dr Samantha Organ (my twin sister, so it was hard for her to refuse me) ran Spaghetti Towers on behalf of RICS – one of the busiest hands-on activities of the day.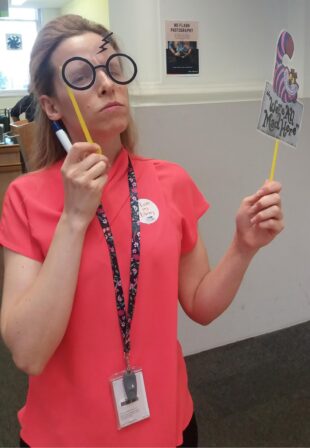 There was also safe cracking (sweeties inside the fancy glass safes were definitely an incentive), poetry readings by local poets, international story time, and selfie props. One of the most popular readings came from Joseph Coelho who gave the most wonderful rendition of his story Luna Loves Library Day with live illustrations by Fiona Lumbers.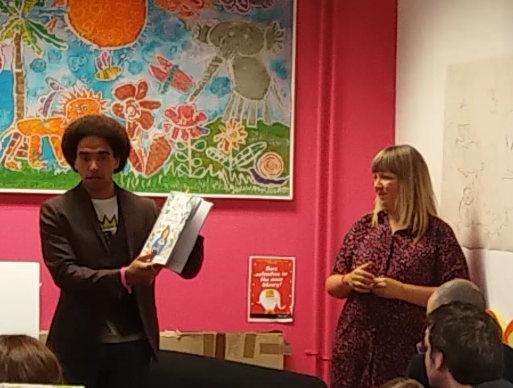 And how did the day go…..
Showtime! It was a slow start but things quickly picked up, especially in the Children's Library where families, who were visiting the library anyway, ended up staying for the readings and activities. Initially, the activities in the Adults' Library were quiet, possibly due to it being in a neighbouring building which made the event more logistically challenging. As soon as volunteers and staff in the Children's Library promoted the other activities we saw a surge in numbers in the Adults' Library. My boyfriend completed the evaluation sheets I had created and provided me with feedback during the event so I could make sure everything was running smoothly (no boyfriends were harmed in the making of this Fun Palace!).
Mainly families attended. The feedback was positive from customers, staff and contributors alike, with appeals for another Fun Palace next year. Probably most surprising was the comment from a senior librarian who helped me on the day. She said that the event organisation and elements I had thought about had changed things at HQ and would be used as a template for future events.
What did I learn?
I experienced challenges along the way. The planning involved more work than I expected (anyone who knows me will tell you I don't do things by halves!) and I had to overcome last-minute changes including contributors cancelling and changes in equipment availability. Luckily, I managed to call in a few favours and get everything sorted out eventually.
I learnt lessons throughout this project. With planning needing more work than anticipated good organisation worked in my favour. Buuuut, no matter how organised you are, activity contributors will drop out last minute, activities themselves may change and, because of the fluidity and evolutionary nature of the library service, even the layout and furnishings may change. Don't fret – there are always options.
So, things to consider should you wish to do your own library Fun Palace:
Your audience. Who would you like to attract? How will you do this?
Accessibility. This could be as simple as appropriate signage (we all know how frustrating it is when signage is not available or sufficient). Accessibility also extends to seating, areas which are less stimulating and no flashing images.
Your contributors. Look after them – they're likely donating their time and other resources. Check pre-event to see if they need a table, chairs (how many), a power supply, other supplies or requirements. Build a good relationship with contributors, not only will they be more likely to help again but they may not already be a library user so you have a potential new customer.
Embed some evaluation into the running of the event so you can critically analyse it afterwards – this could be simply asking people what they have done and what they have enjoyed the most and least. Feedback forms are a little too passive to do on their own – people do not tend to notice them or fill them in.
Remember to have fun yourself. There is nothing quite like seeing the happiness across people's faces when they are participating in an event you have created. If you are happy and positive then it is more likely that the volunteers, staff and participants will be happy too.
To find out more about Fun Palaces, and register for this years event - take a look at the Fun Palaces website.
To find out more about activities in Gloucestershire libraries, follow them on twitter, find them on facebook, or take a look at their website.
-----------------------------------------------------------
Please note, this is a guest blog. Views expressed here do not necessarily represent the views of DCMS or the Libraries Taskforce