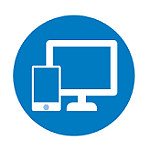 [Background/context: Through discussions the Taskforce team have been having with HP, we managed to secure a pilot for one library to trial a HP Generation 2 Sprout Pro. Due to the high quality of the applications HP agreed to extend the pilot to 2 libraries: Taunton library, which will be followed by Oxfordshire County library. Olly Hellis, Digital Development Officer for Somerset Libraries, writes about the pilot in the Glass Box in Taunton]
We eagerly accepted the HP Sprout Pro in February 2018 with a range of activities and events lined up to make good use of it – but that was before we were fully aware of the some of the amazing capabilities of this smart piece of tech so we quickly added to the list!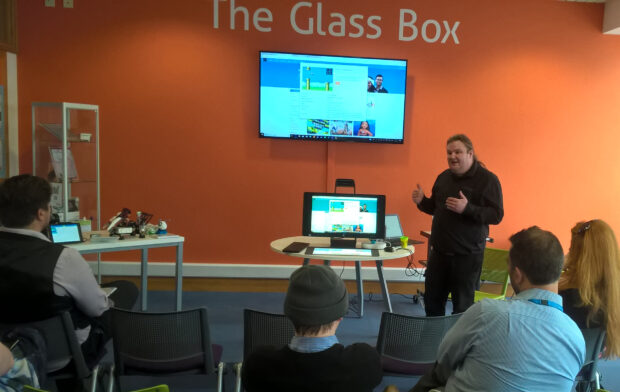 At our early training event with HP Trainer Roger Pestereff, a member of library staff with drawing and animation talents was keen to see how the responsive pen and pad reacted to touch – with some great results! We are now hoping to offer a drawing and animation workshop for the community, where the Sprout will take centre stage.
High resolution scanning
Of course one of the most popular features to date has been the high resolution scanning and we have made several uses for this:
During the BBC Civilisations Project in March, groups of enthusiastic students from a primary and a secondary school scanned some heritage objects, including Roman pottery, a Bakelite radio and a replica of the Alfred Jewel – an Anglo Saxon piece of 'cutting-edge technology' used as a pointer to aid reading (which seemed rather apt). The students scanned the objects using the Sprout and also a hand-held 3D scanner, learning about 3D scanning and printing along the way. BBC Somerset came to the event and interviewed some of the students. One secondary school student said: "That's great, I have scanned a horse shoe and I can move it around to see it on the screen. I could scan myself and make a mini figure."
With all our scans we have been uploading them for anyone to see on SketchFab, which has given us the idea and ability to scan objects that are connected with the library service in Somerset. We wouldn't have had this opportunity without the Sprout!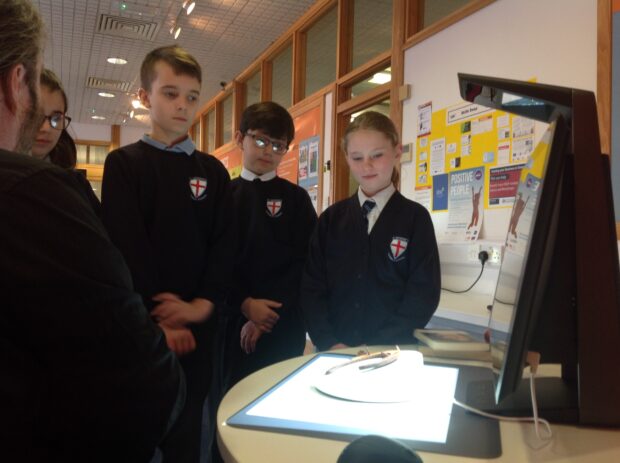 Somerset Digital Skills Academy
We have also launched the 'Somerset Digital Skills Academy' with 20 Year 9 students from 3 different schools and the Sprout was showcased to great effect during a session on 3D Printing, design and scanning.
The next session will be delivered by Somerset Film, focussing on film making and animation, which should be a fantastic session and the Sprout will be in the centre of it all. With the ability to use the touch pad and screen it will be perfect for the students to create without having to learn a new way of using a piece of technology as it's so intuitive.
What next?
Some businesses and SCC staff have used the sprout to explore possibilities around 3D design and prototyping, which is something we will want to promote and develop further when the new Glass Box website is launched in June 2018.
One library staff member said "What a fantastic piece of equipment, to be able to scan, draw and create everything so easily, with all the different ways to interact with the Sprout." Another: "It helps keep the creative flow going without having to think about how to change the size or position of an image or object, you can just touch it, move it, and resize it. Done"
The Sprout Pro by HP fits in so well within the library service as anyone can just use it, "it will be missed when it moves on to another library service".
The Sprout is now just about to be used to scan objects from sponsors of a harbour side festival in Somerset. The scans will then be used to make 3D printed objects for everyone attending to find in a treasure hunt. This sort of project just wouldn't have been possible without the ability to scan using the Sprout.
We will soon be using the split-screen technology to help develop 'how to' videos for a range of digital tech which we are keen to promote more vigorously to the community…so watch this space for more exciting developments!
[Editor's note: Stage 2: Oxfordshire County Library, who commented:
We're very excited to be having the Sprout in our new Makerspace at Oxfordshire County Library in the second half of 2018. The Sprout's fantastic scanning functions will enable us to expand our digital offer for the public and mean that we can further access to new technology. We are planning a number of exciting workshops using the Sprout and aim to develop new partnerships with our communities to show the potential for digital making in libraries.]
--------------------------------------------
Please note, this is a guest blog. Views expressed here do not necessarily represent the views of DCMS or the Libraries Taskforce