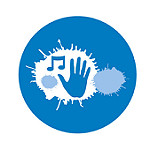 [Editor's note: The third in our series introducing the new library National Portfolio Organisations (NPOs) - Joanne Gray, Partnerships, Projects and Funding Manager for Cambridgeshire County Council describes their programme]
The Library Presents brings a high quality, diverse selection of arts activities into the heart of villages and towns across the county. Arts activities include performances, exhibitions and film, digital art and workshops.
As one of six library authorities across England to be awarded NPO funding, we are extremely pleased and grateful but also incredibly aware of the responsibility we have to ensure the planned programme actually achieves what we hope.
Cambridgeshire County Council had been in receipt of funding for arts in libraries since 2013, when we began with a Libraries Development Initiative grant to work in four libraries in one of our hardest to reach geographic areas. Since that pilot, we have run two Grants for the Arts-funded projects, each time expanding the number of libraries involved and learning an awful lot along the way.
Embedded in our communities
Our learning has led to the approach we posited in the NPO application, expanded upon in the business plan, and are now putting into practice. Our USP (unique selling point) is that we work closely with Library Friends Groups, staff and volunteers in the selection, promotion and delivery of the arts activity. This is really about ensuring that support for the programme is embedded in the communities served by our libraries. The voluntary support is crucial to the programming (getting to know more about what people are interested in) to identifying audiences, and to promoting the programme locally.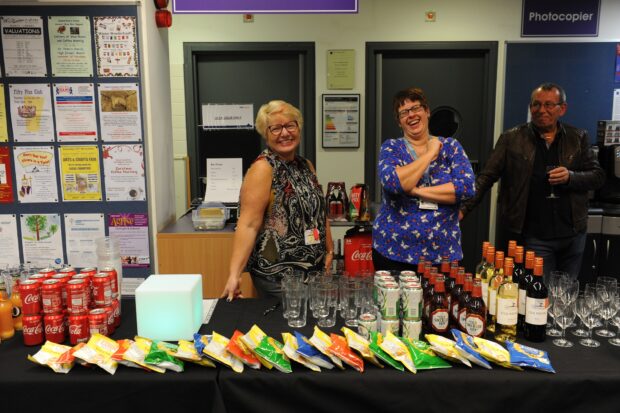 Over the four years (2018-2022) friends, volunteers and communities will be telling us what they want in their libraries. The majority of their preferences will be made from a 'Menu' of activity compiled for each season. This year, Year 1 of our NPO agreement, we are working with 23 libraries over 2 seasons. The first season of activities begins in September 2018, and the programme brochure and tickets will be available from August. During June, volunteers and communities have been asked to select their programme from a 'menu' of fantastic arts activities.
Working with an arts partner
This menu is a curated selection of arts activities – performances, exhibitions, workshops, storytelling sessions etc, that has been compiled by our arts partner, Babylon ARTS. Florence Tong created the current menu from the response we had to our first 'call-out' for artists.
Having moved from one funded project to the next, we knew that the NPO route would be good for us in Cambridgeshire – it enables us to build support for the arts programme with a clear conscience and we know that we can deliver on our promise. We rely so heavily on word of mouth and recommendation that we really do need to be able to build audiences and trust over a longer period of time. The longer-term planning that is now possible allows us be much more strategic; we can try something in a small way and if it works we'll know to build more in during Years 2, 3, 4 and beyond.
Access for everyone
We've had a rural touring scheme in Cambridgeshire in the past and to some extent, I see this as a new iteration of that. The point is that we can take great arts to local venues, we can reduce the need for people to travel to Cambridge, London and Peterborough for their high-quality cultural experiences.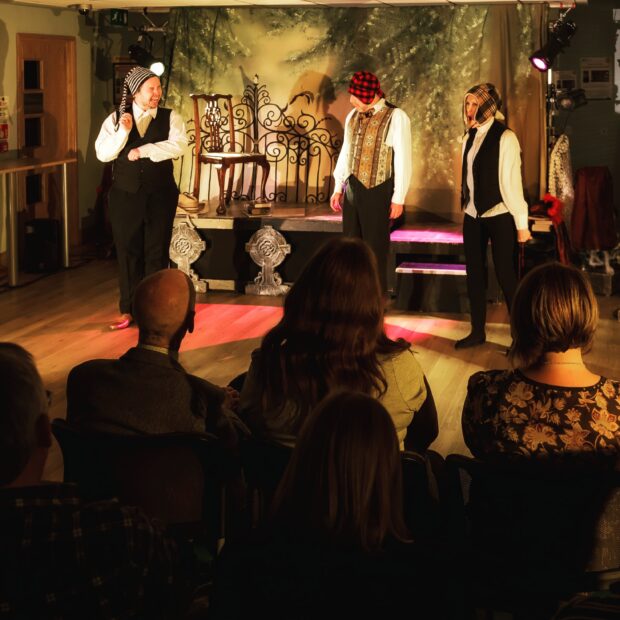 We're able to keep the prices reasonable so that cost is not a barrier for most people, and where price remains a deterrent, we're able to develop special offers and link these with 'taster sessions' so people begin to feel that this is for them – at least they can try it. Ours is a very large and rural county and we are aware of the disparities of opportunity and wealth, so we are addressing those elements through our approach. The programme is county-wide with the focus on priority areas and priority groups – to address low engagement and economic inequality.
A couple of key things we've learnt along the way (pre-NPO) were that the whole programme needs to be heavily promoted and this is much better done centrally by one person than by individual librarians for each activity. So for promotion, for programme lead, for detailed discussions with artists, for contracting and for delivery we have a Coordinator. In fact we have two of them (a job share) - Katherine Roberts and Nathan Jones started in April and May. Both had previous experience with arts in Cambridgeshire Libraries and have settled quickly into their role.
Promoting the programme
We've created a logo and recognisable image for our programme, and we're building a loyal audience base. All of the information is shared with the public and partners through our webpages, growing mail-list and social media (see below), as well as printed season brochures, posters and leaflets.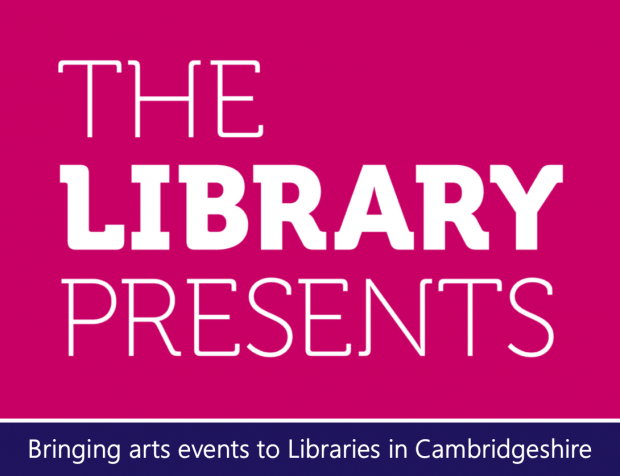 Our aim is to cater for local audiences, but we've seen that people are also willing to travel - they just need to know what's on. Promotion really is one of our main challenges and the combined promotional muscle needed from the extended team of communications, libraries, external colleagues and partners is absolutely vital. Our coordinators play an important part in this promotion, of course, but they are also responsible for arrangements with artists – so lets look at that element next.
Artistic content
The high quality and diversity of the arts programme is the other main pillar of our work. The Arts Council encourages us to offer Great Art, with culturally diverse content. We invite artists to submit their 'offer' to the menu so that we can share the huge range of exciting and stimulating and sheer quality of what is out there, and bring that to the doorsteps of our rural communities.
In April, we advertised an Open Call for artists for our first season of The Library Presents. We received 92 expressions of interest and selected 47 of the proposals to be on the first menu. There was a great range of activity and this was shared with 300 people in 'Choosing Parties' throughout June. Choosing parties are gatherings where people can find out more about The Library Presents, enjoy hot drinks and a chat and help to select the programme for their local library. Now we're working through the selection slips, contacting the artists and putting together the Autumn programme.
A focus on young people
We will develop an exciting programme for children and young people, who will be supported to gain Arts Award qualifications. We have commissioned another external partner, 20Twenty Productions to deliver Arts Award Discover with 300 children this summer. The sessions are linked with the Summer Reading Challenge and we're working with children from Wisbech primary schools, and this matches the school's own focus on raising literacy levels.
Core programme
Our core programme in year one aims to deliver 60 performances and 60 workshops across two seasons in 23 libraries. Some of the libraries have worked on this type of programme before, but for the majority, the activity programme will be new, and we are aware of the demands on time for all involved. Fortunately so far we're experiencing a positive feeling of anticipation from all those people involved in selection – and they're aware they will also be needed for delivery of the autumn season.
We've made great strides since our start in April - two wonderful coordinators are in post and already working at full tilt, the libraries have been selected and as mentioned above, 'choosing parties' have been held in all participating libraries. We are focussing on developing audiences, finding out what they want to see/do more of, taking that information and pushing the aspirations a little further each season.
We will also deliver a book festival and two commissioned pieces of targeted arts activity. We are prioritising work with libraries in areas of low engagement and with priority groups through locally driven, inclusive and collaborative arts interventions. The commissions will be responsive to particular groups of people or themes. We are starting by developing a piece of work this year with looked after children and another commission with digital arts and older people through Dementia Cafés. Our plan is to start small and test the success and benefits of this approach in Year 1, and we will then develop future commissioning based on our learning. The point is that we'll work with libraries in a way that suits them.
Plans for the future
We are creating development opportunities for staff, friends and volunteers - training and support to develop skills and confidence to help make an informed selection, and ensure ability to host/stage events in venues that are friendly, professional and welcoming, especially engaging new participants. We're currently focussing on event management training, starting with promotion of events.
Beyond this? We have already been invited by Kent libraries to speak at their conference about developing a library-based arts programme. Libraries are becoming more and more recognised as great places to host local events, workshops and to see performing arts.
The Library Presents programme is just one aspect of developments in Cambridgeshire's Library Service, and we're working closely with Sue Wills, Library Services Manager, to ensure that it sits comfortably with other plans for engagement, training, volunteering and events. We hope that The Library Presents will become an integrated aspect of library delivery, and will benefit and extend the use of libraries.
Our next call-out for artists will be in August for our Spring season (February and March '19). We will work with professional artists and are looking to broaden and expand the contact list. Recommendations are welcome.
You can keep in touch with our activities by emailing us at thelibrarypresents@cambridgeshire.gov.uk or visiting:
--------------------------------------------------------------------
Please note, this is a guest blog. Views expressed here do not necessarily represent the views of DCMS or the Libraries Taskforce