[Editor's note: The Carnegie Trust's Rachel Heydecker reports on 4 more of the projects running as part of the Engaging Libraries programme]
The Engaging Libraries programme, a partnership between the Carnegie UK Trust and Wellcome, has been running since October 2017. The 14 projects across 17 public library services are encouraging debate, curiosity and conversation about health in a variety of ways. Following on from July's blog, here's a look at four more of the projects.
Redbridge libraries – The Final Party
The Final Party is using the library as a space which can remove fear, embarrassment and other barriers to talking about and planning for death. This project has combined talks, performances, workshops and art installations to encourage discussion about a subject which all too often remains a taboo.
For example, Redbridge has taken advantage of the high footfall in their Central Library to encourage the public to engage with their 'Unsaid' art installation. Wooden 'trees' were placed in the entrance to the library, with people invited to share words that have been left unsaid to people they know who have passed away on a postcard which is then added to the tree. The installation has sparked curiosity and interest, with the topic of death being more openly discussed. It is now touring libraries across Redbridge.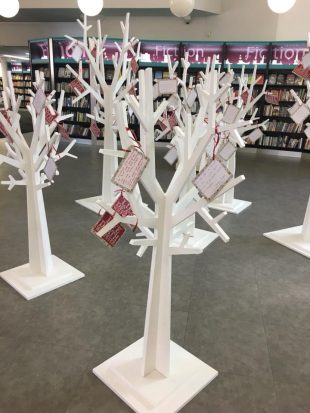 They have also used the library as a safe and trusted space to host Death Cafés, where people can gather for food and drink while discussing death without any set agenda.
City of London libraries – Release the Pressure
City of London libraries are unique within the Engaging Libraries programme, serving a large population of city workers travelling in and out daily, as well as residents. Release the Pressure aims to create a sanctuary space for anyone living or working in 'the Square Mile' to support their mental wellbeing.
Shoe Lane Library, in the heart of the city, has partnered with Business Healthy (the Public Health department of the City of London Corporation) and Mental Fight Club (an organisation that provides imaginative projects to improve people's mental health) to hold fortnightly Dragon Cafés in the city.
There have been a wide variety of activities held in the library, from lunch and learn talks to chess strategy and even yoga, and opening hours have been extended to fit city workers' schedules. The sessions encourage people to use different skills to change their mindset, with a view to benefiting their mental wellbeing.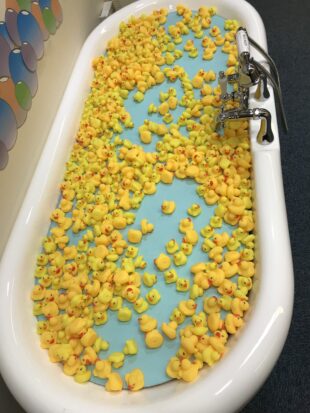 The library has partnered with Output Arts to create an interactive installation, also called Release the Pressure: a bath filled with rubber ducks at the entrance to the library invites people to describe how they release stress on bubble shaped cards, and listen to others sharing their thoughts through a speaker in the shower head. Library staff have found this unusual sight a fantastic icebreaker to allow explanations of the project and conversations about wellbeing and stress.
Leisure and Culture Dundee – Talking 'bout Teddies
This project in Dundee is working with Dr Suzanne Zeedyk, a Developmental Psychologist, to highlight teddy bears' importance for children's emotional well-being and their contribution to children's resilience.
A range of library users aged from 2 to 92 were filmed in libraries across Dundee talking about their childhoods, their teddy bears and what their teddies mean to them, with the videos produced by Dr Zeedyk's organisation Connected Baby.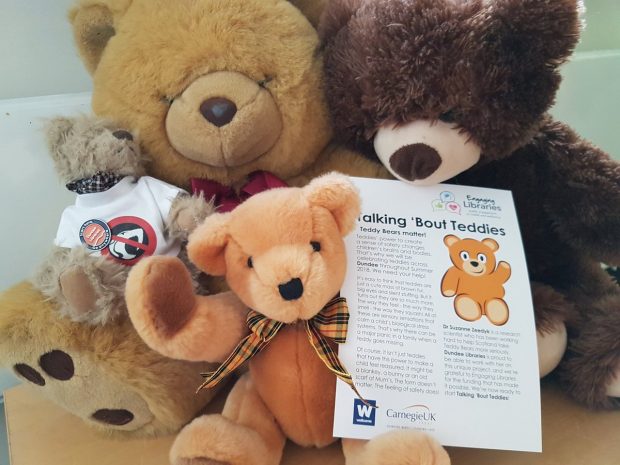 The films were launched at an event in the Steps Theatre of Dundee's Central Library, alongside a public lecture by Dr Zeedyk exploring the science of comfort and looking at the links between childhood experiences and adult health which were raised in the films. The event was attended by families as well as a range of professionals including the police, children's charities, solicitors, nursery and primary school staff. The films have toured Dundee's libraries over the summer, and will be shown at Dundee's Science Centre as part of the Science Festival in October.
Torfaen libraries – Slipper Talk
Slipper Talk in Torfaen is built on the concept of a slipper swap to begin conversations about ageing and to hold intergenerational events to foster respect between citizens. In the run up to Christmas, the library encouraged younger users to nominate older people they knew to receive a pair of safe slippers, and staff visited schools to discuss the ageing process, wrap the slippers and read shoe-themed books.
In the New Year, those who had received slippers and their nominators came together at celebratory tea party events, where people of all ages enjoyed storytelling, games, arts and crafts alongside conversations about independent living, falls prevention and the ageing process.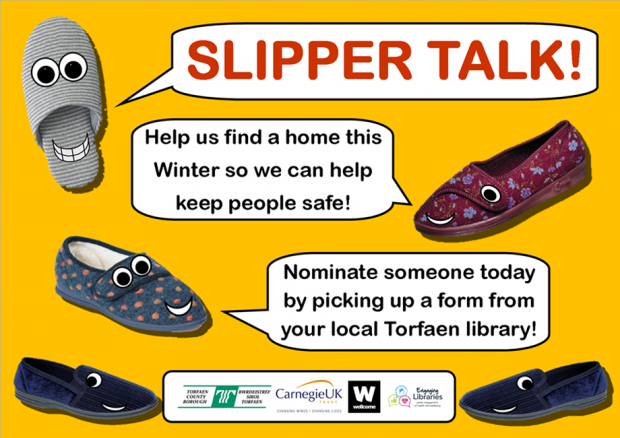 Many Engaging Libraries projects will be holding celebration or finale events in the next few months, as the programme comes to a close in October 2018. You can follow these events on Twitter using the hashtag #engaginglibs
--------------------------------------------------------------------------
Please note, this is a guest blog. Views expressed here do not necessarily represent the views of DCMS or the Libraries Taskforce