As outlined in this post, projects funded by the Libraries: Opportunities for Everyone (LOFE) innovation fund ran during 2017 to 2018 and were evaluated by Traverse. One of the benefits stated by participants was that they valued the opportunities to get together during the project, and share ideas and experience as they went along. With that in mind, we thought it a good idea to bring as many teams as possible together at the end of the funding period, to hear the overall highlights from the evaluation, and talk about the legacy of their work.
The programme also included a welcome from DCMS's Arts, Heritage and Tourism director Emma Squires, plus speeches from the Libraries minister Michael Ellis, and Arts Council England's deputy chief executive Simon Mellor. The minister talked positively about the fund saying: "I hope everyone here today feels that the LOFE projects have created a legacy which can be built on and from which library services can learn from, helping libraries to unlock this potential in their localities."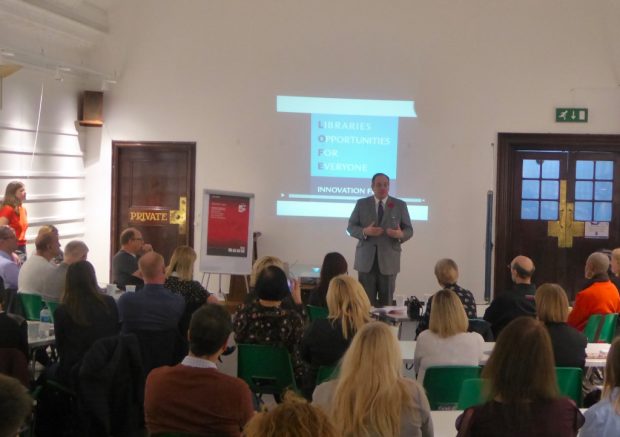 The team from Traverse presented the highlights from their report. The full report, plus an executive summary, has now been published on GOV.UK. They have also created a projects booklet, which sets out an overview of each project, and provides contact information.
Project updates
Three of the projects gave presentations on their work - with a particular focus on what they had learned, and the legacy of their activity. We intend to publish blog posts from each of them over the next couple of weeks, so look out for news on:
Norfolk's Reading Pathway (which will update the post they have already written)
West Sussex on their ambitious 'Digital Library Plus' project, which aimed to reach an ageing population at risk of loneliness and social isolation, address the high numbers of job seekers with low digital skills, and help people with learning disabilities to increase their wellbeing
Merton's My Library project - which will focus on their legacy work with young people (and update their earlier post)
Discussing legacy
All participants were then asked 2 questions:
what is the biggest thing you learnt?
how will you build this into your work for the future?
They discussed these in groups then wrote their combined responses down. A selection of those responses follows:
What did you learn?
the project took us out of our comfort zone and opened our eyes to what we can do in our libraries
we now have a better understanding of the needs and aspirations of young people and how to engage them
that volunteer projects are hard to sustain without staff capacity to support - also: volunteers are amazing, essential …. and challenging
co-production puts 'users' at the centre of decisions and needs staff to trust them, and let go of control
the importance of telling the story backed up by metrics - measuring the social value
perseverance - keep going!
IT procurement is really hard
finding something that sparks an interest among library users in taking advantage of digital kit is pivotal and a game changer
new things aren't something to fear
build relationships with networks [partnership working was a common theme]
build in evaluation from the start of your project
keep ideas in your back pocket to bid for (especially when short time frames for applications)
libraries can be innovative at doing more, with external support
a little money goes a long way
thinking about different ways of engagement on social media to reach other people not currently using us
*hidden skills identified in staff* - they are your best resource
And how will you build this into your work?
our programming has been impacted by engaging with special needs schools to understand what would work for their students
showcase to others what libraries are capable of and how we can build on this
regarding further development of spaces: ongoing monitoring of impact on young people
further partnership development
hard to reach groups (children) also need parents to be engaged as well
sustaining cost of equipment (digital) needs new approaches to sponsorship
be bold and be willing to focus on targeted offers
bolt new things into relevant existing service offers
publish a 'How to run guide' - on the Innovators Network / share resources with other groups
it's OK to shout about libraries
strategic positioning is vital
explore links with higher education
framework agreements (to be explored with Libraries Connected and Arts Council England)
Closing remarks
The event closed with a speech from Simon Mellor, the deputy chief executive of arts and culture at ACE. He emphasised how libraries were becoming an increasingly important part of ACE's portfolio. He mentioned the new National Portfolio Organisations as early examples of this, and encouraged people involved in libraries to talk with their regional representatives to explore how ACE can better use their project grants and support library applications.
He also encouraged people involved in libraries to take part in the current round of consultation which will inform the ACE strategy for the next 10 years. Sue Williamson, director: libraries at ACE, has written a blog post which expands his remarks, which will be published shortly. [Update: now live: How you can work more closely with Arts Council England?]
Next steps
As mentioned, we hope to publish updates from the 3 projects who presented at the event, and any other LOFE projects as they continue their activity. Search #LOFEfund on our blog to find examples, and subscribe to be sent new ones as they are published. Also, look out for the hashtag on social media as we share the infographics - all of which are available to download from flickr.