So before I start, what is a MakeFest? It's a free one day festival in a library or museum which enables people of all ages to explore how science, technology, engineering and arts and crafts are shaping our world. This is done through exhibits, demonstrations and hands on activities. Crucially it is organised by a team of volunteers from the local 'Maker' community. 
None of us involved in Liverpool MakeFest knew how impactful it would be personally, professionally, organisationally, regionally and nationally when we began 5 years ago. I'm glad to say Liverpool MakeFest was born in the library because of a chance meeting between myself and co-founders Caroline Keep and Mark Feltham.
How did it start?
I was in the children's library overseeing a lantern making workshop for Chinese New Year when I was approached by 2 enthusiastic people set on persuading me that Liverpool central library would be the perfect venue for a community 'making' event, and asking if we would we be up for it. 
Mark Feltham is a senior lecturer in John Moores University, where he and Caroline Keep had established a maker project group. Caroline teaches secondary school physics and started the first makerspace in a UK school which is embedded into the curriculum. She's also a consultant and advisor to many learning, EDTech and Science, Technology, Engineering and Mathematics (STEM) organisations. Her success in this area saw her awarded TES New Teacher of the Year in 2018. 
It was an exciting idea and difficult to resist. Besides, as a geeky mum to 2 teenage boys, the mention of robotics, drones and Raspberry Pi's rang the bell and I knew immediately there would be an audience for it! 
After doing a bit more research and getting the ok from our service management team it was all systems go...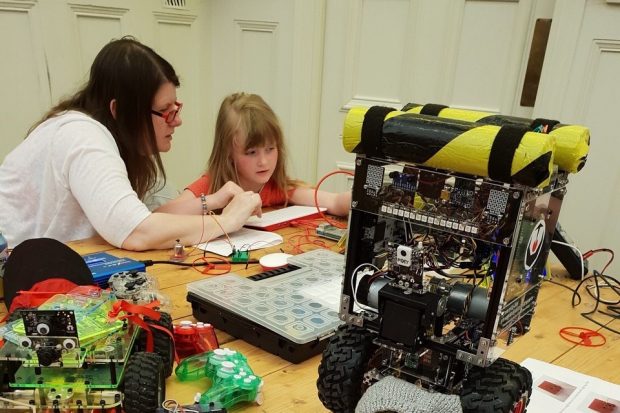 The first year
We began planning what was supposed to be a modest event with the 3 of us bringing a mix of skills. Caroline is great at getting people on board, linking up ideas and people and has many 'lightbulb moments'. Mark is also enthusiastic but realistic and practical. My role included troubleshooting, negotiating, event planning - and toning down panic when we got nearer to MakeFest on 28 June 2015.
Once word got out, we were swamped by requests from the north-west Maker community eager to participate. The main Maker event in the UK then was in the north-east but it was a profit making event. We wanted ours to follow a different model, to match the public library ethos - free for the public and exhibitors, and workshop-based rather than selling products. 
We didn't know how the event would turn out and if the public would turn up to participate - but they certainly did with double the number of makers and over 1,000 people attending. It was a fantastically rewarding day, our hashtag #LivMF trended locally on Twitter in the afternoon and we got a big spread in The MagPi. The rest is history as Liverpool MakeFest has grown from strength to strength.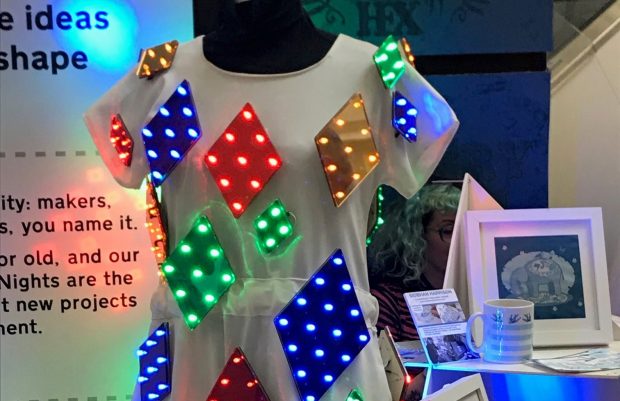 Makefest activities
During the 5 years of Liverpool Makefest we've had demonstrations and workshops of emerging creative technologies including VR, computer gaming, drones and DNA pendants. As well as more traditional craft activities like sewing, knitting, and photography and  showcases on drilling, astronomy and women in tech. My own favourites are the Cassandra complex and the disco knitting machine.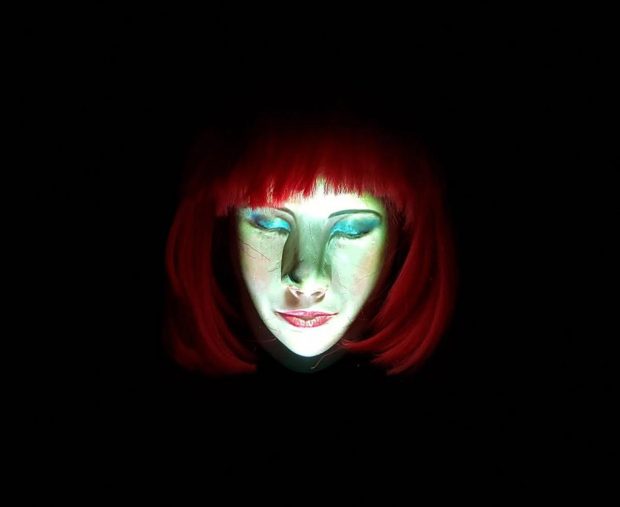 As it has developed we've been able to include music, dance, film, parades, Cosplay and Steampunkery. We've also developed a great media strategy and presence with a podcast  thanks to the 'voice' of Liverpool MakeFest, Dan Lynch and some great films from our multi-media expert Hayley Trowbridge. There's a tight team around us now and a great support network. It would not be the fabulous event it is without them. 
Five years on MakeFest is one of the biggest events in the library's calendar. We've built up to a steady visitor and participant figure of 4,000 and we're the biggest community Maker meetup and promotional event in the country. Our Maker participants travel from across the UK to share the day with us and it's developed into something rather special, with spin offs and activities into the north-west and beyond. 
We've even had an 8 page spread in Hackspace magazine - it's pretty weird to pick up a magazine in a newsagents and see yourself in it! 
Makefest 2019
For our 5th anniversary event we held a world record attempt to build the tallest 3D printed rocket. We think it was successful but it will be verified in the autumn so watch this space! There were also 3,450 people attending and 60 Makers. To accompany Liverpool Makest the library service curated and installed an exhibition that celebrated women in science and ran throughout the summer.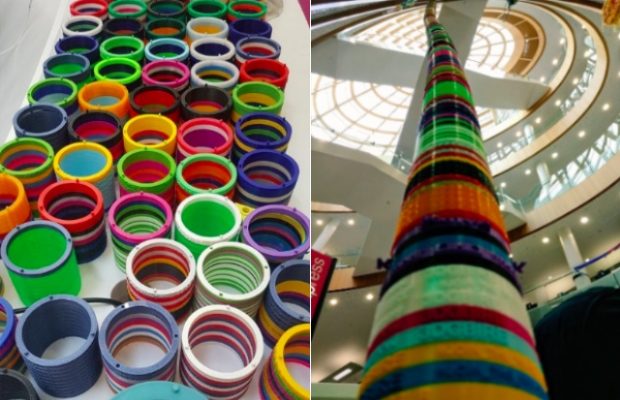 Impact of Liverpool MakeFest on the library 
Getting involved with Liverpool MakeFest has absolutely been worth it for Liverpool library service. The Maker community now recognises how they have a similar ethos with public libraries. Makers often comment on their love for the venue and the general 'library vibe'. I've also been introduced to the value of educational and creative technologies that have informed and influenced what we offer as a service - for example in 2014 we gained a code club.
We successfully bid for funding from the DCMS-backed Libraries: Opportunities for Everyone fund for our Maker Difference project. This expanded MakeFest 2017 by running events in community libraries and reaching hundreds more young people. Our Hack to Hack community and heritage project (Arts Council England funded) was a stunning fusion of arts, cultural, performance, puppetry digital and making. 
Artists and creatives who have worked on MakeFest have come back to work with us on solo projects. Such as digital artist Sam Meech created his Portals project for Light Night in Liverpool Central Library in May 2019. This was a major piece of digital art that is touring other library venues and has been longlisted for the prestigious Lumen international digital art award.
Added to this, we have also made cultural contacts through Liverpool MakeFest that have developed into new projects and have involved partnerships with artists, arts and health organisations, volunteers, teachers and performers.  
Plans for the future
There will almost certainly be a Liverpool MakeFest in 2020 in the library. What form it will take is still in development but we are thinking of having a heritage theme to fit with the new decade. 
Libraries are becoming recognised as important digital enabling organisations; indeed, Libraries Week 2019 is celebrating the role of libraries in a digital world. 
Establishing a MakeFest in your library can give you the perfect vehicle to hang any of these digital activities on and a perfect inclusive event to build funding bids around. We'd like to see as many library services running their own MakeFests with their own local image and for public libraries across the country to take ownership of 'MakeFest' as a library led brand - open to all, free and inclusive. Some already have - particular shout outs to Stoke and Chester!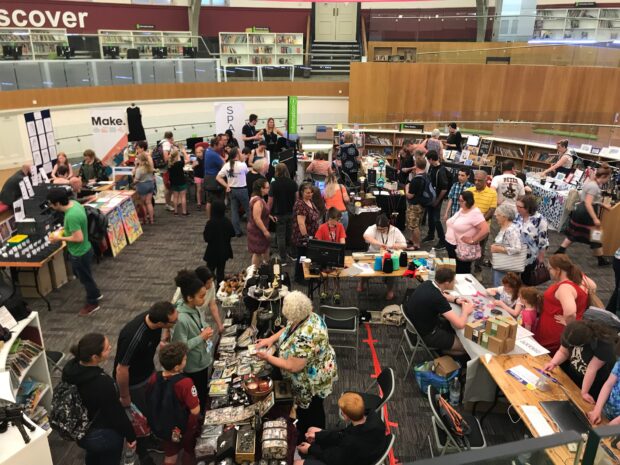 How to run your own Makefest
Where do you begin? Caroline, Mark and I have produced a guide that will help you take your first steps. It's hard work, takes a lot of planning and, as with every other event or project, something will go pear-shaped at some point. However, I absolutely guarantee it will pay off with great rewards for you and your users. The Liverpool MakeFest team will be delighted to help and advise you along the way, you can get in touch by email, via our contact us page or twitter.
Go on, go for it! Make your own Library MakeFest. You know you really want to.
You may also be interested in our blog makerspaces in libraries.

This is a guest blog from Denise Jones from Liverpool Library Service and the team behind Liverpool Makefest.