[Editor's note: Original article by Darren Edwards was published in CILIP's Public and Mobile Libraries Group (PMLG) Access magazine, Spring 2018 issue. Republished here with permission and thanks. Darren works for Bournemouth libraries and is the UK co-ordinator for International Games Week]
Why games in libraries?
Games have been an important part of culture for as long as human civilisation has existed – the earliest known complete game, Senet, dates back to pre-dynastic Egypt around 3100BC. The archaeological record contains many further examples of games, from the royal game of Ur in ancient Mesopotamia, dice and checkers in ancient Greece and Rome, chess in the Indian Gupta Empire and Go in the Zhou Kingdom of China. Play forms such an important role in society that Dutch cultural historian Johan Huizinga coined the term Homo Ludens – Man the Player, in his treatise on the necessity of play in the creation of culture.
Today the variety of games available has never been larger and the games industry is booming. An estimated 32.4 million people in the UK play video-games, spending over £5 billion on games and associated products per year. In 2017 the global videogames industry was worth around $109 billion, more than double that earned by the film industry. This boom isn't just seen with video-games, the UK table-top gaming industry is also growing rapidly.
Leading wargames manufacturer Games Workshop tripled its profits in the last year and UK Games Expo is now the third largest hobby gaming convention in the world, attracting more than 30,000 attendees over three days.
With such a rapid growth in the popularity of gaming in all formats, it would be remiss of public libraries to fail to consider games as part of the cultural landscape as much as music, film or even literature. Indeed the Society of Chief Librarians [now Libraries Connected] included board-games events within the Core Universal Culture Offer that all public library services within England, Wales and Northern Ireland should be providing. Using games in public libraries is not a new phenomenon. As far back as the mid-nineteenth century libraries were utilising games rooms and billiards parlours to lure people away from public houses into their buildings.
Beyond their cultural importance games can be used for a variety of purposes within libraries. Games, particularly table-top games, are inherently social and often cannot be played alone. Games are found so commonly across cultures they are able to break down cultural and language boundaries, and allow old and young to socialise together in a way that many other activities do not. These aspect of games makes them perfect to be used to improve social cohesion, counter loneliness in the elderly and build relationships between staff and the library users.
Libraries can play a key role in making this social aspect of gaming more accessible by providing an inclusive non judgemental space for gaming. Libraries can also stock games which can be expensive for an individual to purchase but compared to many library resources are relatively low cost, particularly when considering the number of people who can be using them at the same time.
Story telling
Games can also be great for telling stories, giving players opportunities to mould or even tell that story themselves. The ability to make meaningful choices over the direction of the game, known as player agency, is a key component in the design of the most engaging games. Using professional writers to bring quality narrative is becoming increasingly important in digital games, a point noted by Adrian Smith (creator of the Tomb Raider series) at this year's New Media Writing Awards.
This recognition of writing in games is also shown in the British Library being the venue for the AdventureX convention of narrative gaming, as part of this year's International Games Week. Table-top games can provide even greater control for players over the direction of the story than videogames. The archetypal roleplaying game "Dungeons and Dragons" allows players to tell their own fantasy tales and in storytelling cardgame "Once Upon a Time" players compete to create a fairytale. It's not all about sword and sorcery either; in collaborative storytelling game "Noirlandia" players create a crime noir mystery from a pin-board, some string and dice; and the upcoming roleplaying game "Good Society" seeks to emulate the Regency world of Jane Austen novels.
As well as being culturally important, inherently social vehicles for storytelling, games can also be incredibly useful tools for informal learning. The importance of play in the development of children is well documented but it is becoming increasingly clear that it remains important in adulthood. Games and play offer the opportunity for players to test out ideas and practise skills in a way that removes the risks of failure in the real world. This so called "magic-circle" where players step outside their normal life into an alternate play world is key to the concepts of playful learning.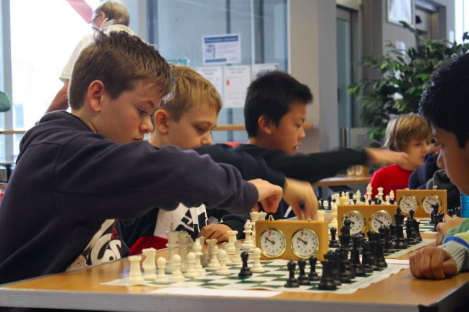 Games can allow libraries to support learning in a fun and interactive way that can be less intimidating than formal learning. Literacy and language skills can be supported by games like Scrabble and Codenames; coding and computational thinking by Minecraft; and forward planning by chess and other strategy games.
How to choose games for your library?
In order to make informed choices about what games to select, staff need an understanding of what makes particular games suitable for use within a library setting.
This section will concentrate on table-top games, as this has been our primary focus at Bournemouth Library. Digital games come with a different range of considerations including what hardware to choose what licensing restrictions are in place and the high entry costs of purchasing consoles.
Many of the considerations for selecting games are similar to those for selecting books, such as what age range you are catering for and what level of existing knowledge your users have. Games also have their own special considerations too, such as how easy is it to play with pieces missing and can missing pieces be replaced.
Age
The age group you are aiming to attract will play a major part in your choice of games. In our experience at Bournemouth Library the age of participants will likely be younger than you expect, especially if the event is not specifically marketed at adults. For younger children games will need to be short and may need to be simplified. Older adults are likely to be more receptive towards traditional games like Scrabble and Bridge.
Complexity
Members of the gaming community are often very enthusiastic about games but underestimate their complexity and the level of prior experience need to quickly understand them. Unless you are focussing on bringing existing gamers into the library space aim for simpler games. Traditional games and "Gateway Games" like Ticket to Ride and Carcassonne are a much better choice than critically acclaimed complex strategy games like Through the Ages.
Time
Connected to the complexity of the game is the time taken to play (many popular games take 3-4 hours to play). This is entirely unsuitable for a library setting where players will want to drop in and out, and will probably only want to play for a short period. In our experience the best games for the library are those that are short, as these stop latecomers waiting around for ages before they are able to play. Within the games community, these games are often described as "filler" games. As a rough estimate, we aim to have most games lasting 30 minutes or less with some longer games up to one hour.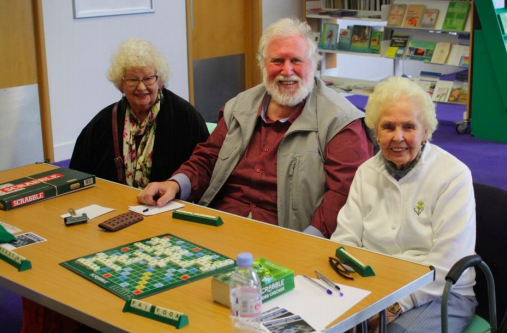 Player Count
Library games clubs will see players drop in and out so having games that are flexible in player count is very useful, especially if players can join mid game. The "Fluxx" series of games are a good example as they are simple, quick and players can join mid game or swap in and out.
Space
The space taken by games is very variable – before buying the latest hip game check how big the board is. "Twister" is wonderful, silly fun but needs a lot of space to be safe, whereas "Yogi" takes a similar idea, but can be played around a table or sat on the floor. At Bournemouth Library, we were forced to stop supporting wargames even though they were popular, due to restrictions on space.
Components
Games with a large number of unique components are unlikely to be a good choice for libraries. Parts of games will inevitably go missing so picking ones where this has a minimal impact on play is a good idea; "Carcassonne" is one game where this is the case. Some games will come with spare components, like the extra trains found in "Ticket to Ride" and other components like dice, cards and 'meeples' (people shaped counters) are all replaceable at low cost.
Experience in Bournemouth
At Bournemouth Library we have focussed on board-games over other types of table-top gaming. We tried to host roleplaying games but found these were hard to run with ever changing groups and Games Masters (GM) who wished to have long-running campaigns rather than single session games. There is the potential that stand alone GM-less games like "Fiasco" and "Noirlandia" may work better but these still have issues regarding the time required and the number of players per facilitator. We successfully ran Warhammer sessions for more than a year before a lack of space, caused by commercial bookings of our meeting rooms meant we were no longer able to accommodate wargames.
Overall we have found board-games to be the best use of our time and space, maximising the amount of people who can play with minimal staff input. We do not currently stock our own games which means we rely on those brought by our volunteers. These don't always match with the ideals outlined above and by stocking games a library service can ensure that the events they run closely link with their strategic plans.
Shopping list
Suggested starter games for under £200:
Traditional games:
Chess (£10)
Scrabble (£15)
Playing Cards (£2)
Games for children:
Jenga (£16)
Fruit Salad (£10)
Word games:
Codenames (£16)
Bananagrams (£15)
Family games:
Ticket to Ride (£40)
Carcasonne (£33)
Total £195 (all at RRP, although cheaper alternatives and discounts commonly available).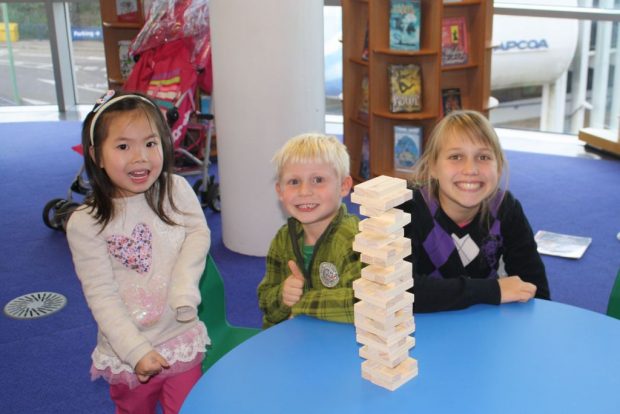 Collaborating with others
The most effective games events feature some kind of facilitator to introduce new players to games and teach the rules. Unknown rules are a barrier that mean without support users are unlikely to pick up new games. Learning to play from scratch via the rulebook is far more difficult than being led through by an experienced facilitator. Public libraries face significant pressures on staff time, which makes being able to have staff dedicated to running these games activities unlikely. Partnering with external groups who can facilitate events is a good way to be able to maximise the effectiveness of games in the library.
Here are some suggestions of groups who can help with facilitating events:
Traditional games
Traditional games often have extensive support networks across the country. National organisations like English Chess Federation and English Bridge Union, keep club listings who can be contacted for advice and support. Chess in Schools and Communities specifically provides support for libraries wanting to run junior chess sessions, including chess sets and access to trained tutors.
Board-game cafes and friendly local games stores
Games retailers are often keen to reach new audiences outside the core gaming community; in Bournemouth we have run several successful events in association with local stores. Meeple Mapper  and Board Game Geek contain lists of retailers and cafes across the UK, though neither is complete. The Scotlight contains a fairly comprehensive list of Scottish retailers.
Board-games clubs
Games clubs are often on the lookout for new members or new sites to locate their club. Table-top Gaming magazine, and the UK Games Expo, both keep lists of gaming clubs that are available through their websites.
Wargames clubs
There is a sizeable War-gaming community within the UK ranging from fantasy and sci-fi to historic games. The Gaming Club Network is a membership organisation that supports wargames clubs across the UK, Games Workshop support their games in libraries as part of the GW School Alliance.
Games designers
Working with games designers can enable libraries to run sessions on coding digital games, games jams (events where people create a game in a specific timescale) and playtesting events. Game Map UK has a list of UK digital games design companies and Universities running games design courses. Table-top game designers are more difficult to locate but you may be able to contact many via the group PlaytestUK.
Other groups
Groups like the Playful Learning Special Interest Group and the Game Research Network offer opportunities for libraries to engage with researchers investigating the role of games and play in learning.
Further reading / support
Scott Nicholson's book, "Everyone Plays at the Library", is a great place to start if looking to run games events in libraries.
The League of Librarian Gamers is the official FB group for the ALA GameRT – although it is obviously US centric, it is very active and a great place to share ideas.
Games & GLAMS is a Google group for discussion about games within the wider cultural sector.
Games in Schools and Libraries is a podcast for teachers and librarians on using games in school and library settings.
----------------------------------------------------------------
Please note, this is a guest blog. Views expressed here do not necessarily represent the views of DCMS or the Libraries Taskforce